Monalisa Dash Dwibedy

The author, in this multi part article recounts her experiences while being on a trip to Nova Scotia in Canada from Toronto. She visits various tourist places and narrates her firsthand experience of the same.
Day 5 : Victoria Park, Truro, Pomquet Beach park & Havre Boucher
When we started from Windsor, we never knew it will be a wonderful day of exploring another beautiful stretch of costal Nova Scotia. We reached Truro, a place which is almost at the center of Nova Scotia, incidentally the road side tourism advertisements also says "the heart of Nova Scotia ".
A colleague recommended to visit Victoria park in Truro which is full of nature trails. We parked our vehicle and explored the Victoria park. The most important and beautiful thing to mention here is that the park entry was free and there was no parking fee. The park had two small fountains and many forest trails. This park was unique in terms of the ladders that took us from one view point to another.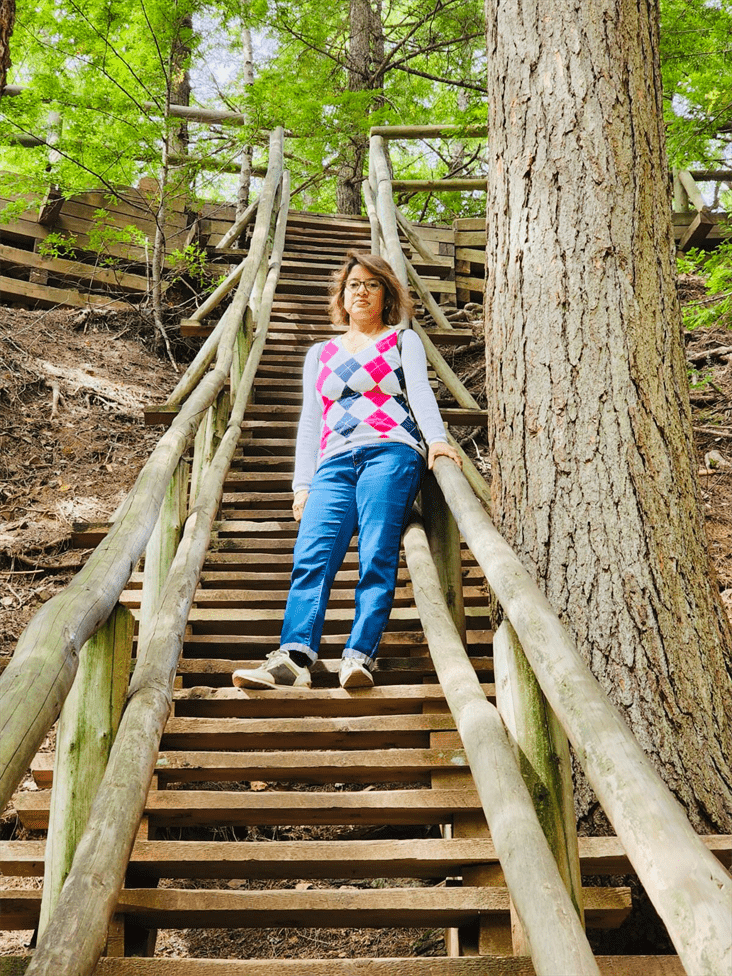 On our way to Havre Boucher, we stopped by Pomquet beach park. The beach was very beautiful and as there was no one there, we got the entire beach to ourselves. The mighty Atlantic Ocean was its aggressive best, as if the waves had a little fire within. We spent quite sometime in the beach before heading to our Airbnb.
On the way, "The cove dining room" near Auld's Cove had excellent sea food & salads. It was a recommendation from our Airbnb host Shelly. We enjoyed lunch at the waterfront dining hall .
Reached Havre Boucher & Checked in at Shelly's place in the evening. Her place is a wonderful retreat of few acres rolling over a small hill in Havre Boucher. You can see the ocean from her patio and dining / living area.
They had a beautifully landscaped garden and two horses. I enjoyed most of my evening in the hammock looking at the crescent moon.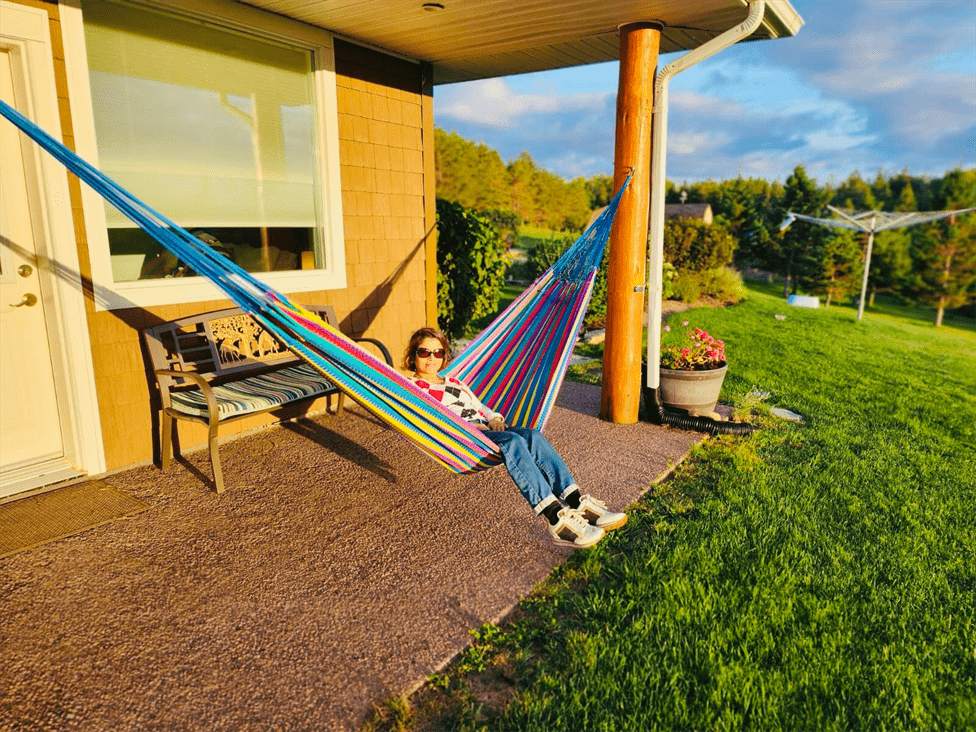 Day 6 : Cape Breton Island
A good breakfast is all you need to get inspired for the day. I can't agree more. Our breakfast today was made by our Airbnb host Shelly. Orange juice, fruits and granola in yogurt, fresh free range eggs, home made blueberry muffin and herbal tea. Truly it won't be an exaggeration if I say happiness is always homemade.
We left Havre Boucher and drove towards Crepe Breton island, where we plan to stay for next two days of our trip. We picked up live lobsters from a local store. On our way, it was marine drive for the most part, except a few kilometres stretch till Bedeck, which was full of forest on both sides of the road and with new road constructions on some places, the traffic was moving very slow.
Bedeck is the place famous for Alexandar Graham Bell, the teacher, scientist and inventor who is mostly known for his invention of the telephone. We looked into the Canada's national historical site where Bell used to live. We took a brief look at the museum as we walked on the genius's foot-steps for a few minutes before resuming our next leg of the journey.
We stopped at the entry of Island and bought our ticket. Next stop was at a view point where we saw the beautiful Atlantic Ocean from the top of a mountain cliff. One can't go near the beach as it was very steep and rocky.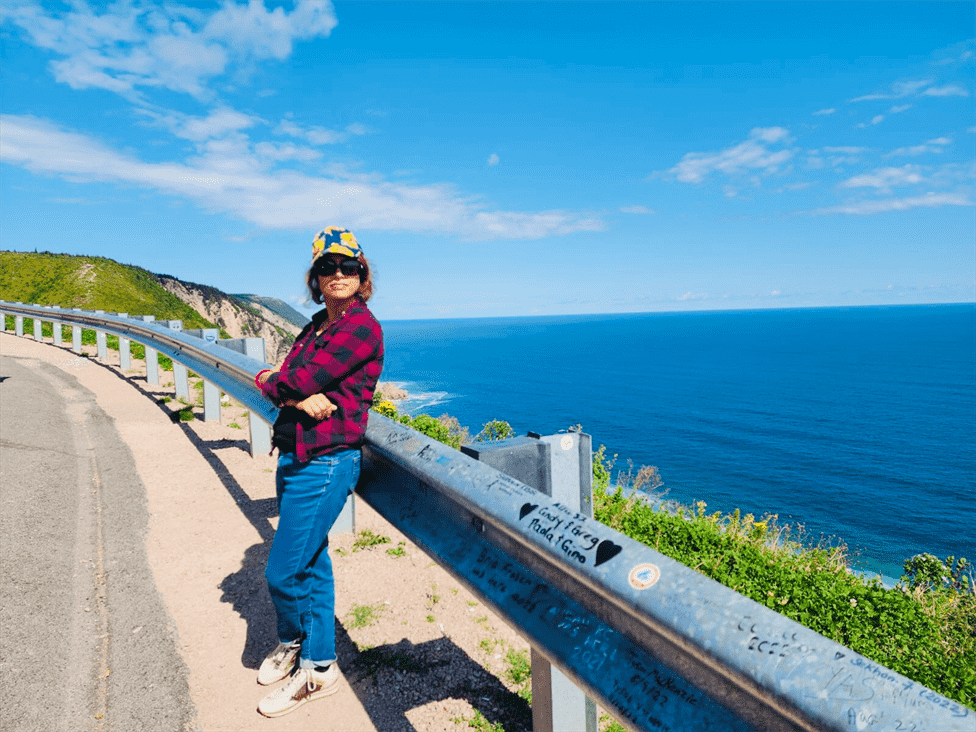 Finally after two and half hours of scenic drive, we reached the cottage near the ingonish beach which we booked for our two nights stay in the island. It is a beautiful cottage near the beach. We cooked lobsters for our dinner. On my after dinner walk, I went to the nearby beach.
Today being two days away from the full moon day, the moon is almost round and in a light golden hue. The horizon was a mix of dark blue clouds and golden with the last rays of the sun.
The water was reflecting both blue and gold. Beyond the ocean, the mountains were blue. It was as if the nature was matching to blue and gold colour all around. It was so beautiful, I felt like it was a good omen carrying a message from the universe for me. I got the message. It's a story for another day though.
(The writer is an I.T. consultant and lives in Toronto. Views are Personal)