Monalisa Dash Dwibedy
The author, in this multi part article recounts her experiences while being on a trip to Nova Scotia in Canada from Toronto. She visits various tourist places and narrates her firsthand experience of the same.

Day1: Arrival at Halifax
Nova Scotia is a state/province of Canada and it's called Canada's ocean playground. Hopefully I will get to know within my next seven days trip across the costal routes why its called so. Halifax is the capital city of Nova Scotia.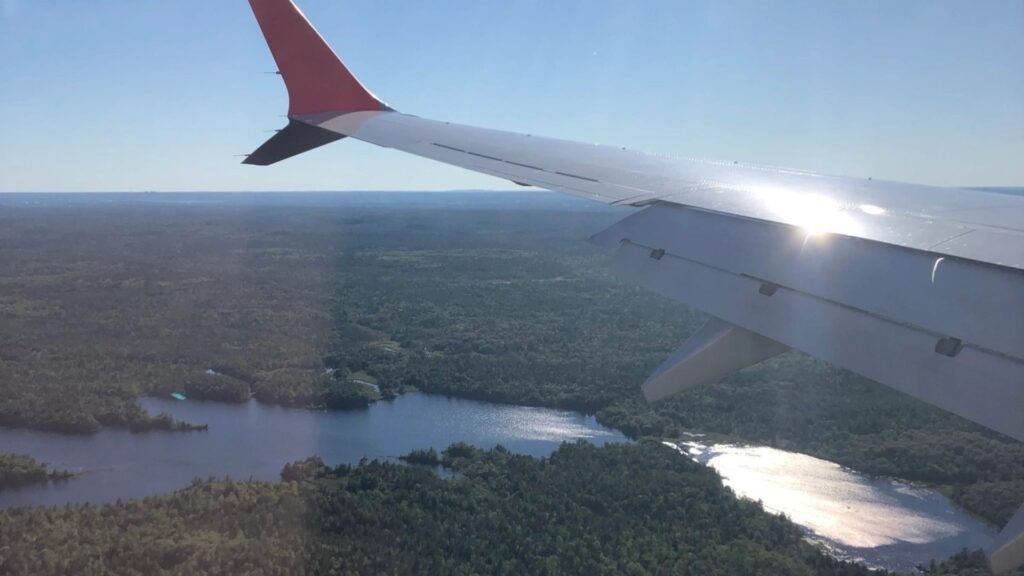 Me and my husband took the afternoon flight from Toronto to Halifax, which was less than two hours duration. We are still the kind of savvy travellers who try not to spend too much money on luxuries so that we can use the money for another trip. We flew the Lynx Airlines , though it was a low cost budget flight, it was better than we expected until it was not.
The view of Halifax skyline was beautiful with the Atlantic Ocean and lots of small water bodies within the sight. In fact all the way from Toronto to Halifax, I did not spend more than five minutes without the the sight of a beautiful lake or pond from the window of the aircraft . Canada has world's twenty percent of fresh water. It's not a lie. The only unhappy experience was while landing, which was a rough one. It caused pain in my ears and my husband felt severe pain in his front head which could be due to sudden air pressure change within the aircraft. 
Once the flight touched the ground, the pain started to lessen but my hubby said he still had a little pain till late evening. Halifax is a small airport, even if you are a first timer, you will find your way around. After collecting the checked in baggage, we walked to AVIS rental car office premises within the airport.
A black beautiful BMW X1 was waiting for us. BMW is little expensive to rent (645 CAD for 7 days), we chose it for two reasons. First, while you are on a road trip, it's always wise to drive in a comfortable car. Second, as we drive a BMW back home in Toronto, my hubby knows the car in and out. So it helps reduce the stress of driving another brand of car where you have to spend some time to familiarize yourself with it.
Soon we found ourselves driving towards Bedford which was around thirty six Kilometers away from the airport. There was lots of vegetation along the way. Some of the city roads had no traffic at all. So the drive was smooth. We have booked our Airbnb at Bedford, Telus road for tonight. We will have dinner & rest well before starting our trip along the coast to Port mouton tomorrow morning. Oh beautiful Nova Scotia! Here we come to admire and behold your beauty.
Day 2: Peggy's Cove, Mahone Bay, Lunenburg & Port Mouton
We started 8:30am to Peggy's cove, an active fishing village and home to Peggy's point light house. Unreachable Blue Atlantic (Here you can not reach the water due to the surrounding rocks) with wrinkled rocks aging more than my great great grandma and a white tall light house with a red cabin at the top is Peggy's cove. I closed my eyes and inhaled the salty see breeze as much as I could imaging it will rejuvenate my each cell. After my Jamaica trip, it was my second encounter with the mighty Atlantic.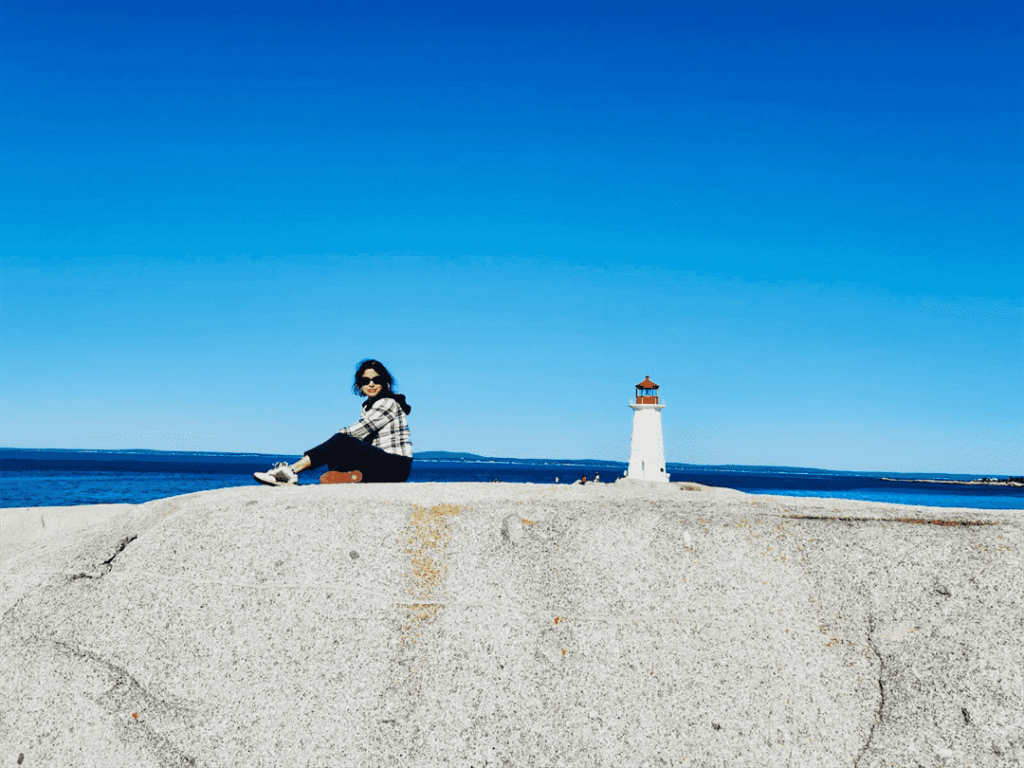 We drove along the coast and reached Mahone Bay, a small town with a marina full of wrecked ships. It's a fishing village too, you will see the equipment the fisher men use to catch lobsters and crabs. Do not ever buy a fudge from a shop where they say it's the best fudge in the town. They sell horrible fudge, extremely sweet, with an unexpected smell, it was not edible. I tried maple syrup and chocolate fudge. Yikes!
From Mahone bay, Lunenburg is only twelve kilometres away, so if you are in Mahone bay, do not miss the view of the beautiful marina of Lunenburg. It's another fishing village with colourful houses along the shore. Lunenburg is also called the Christmas tree capital of the world. Here You will learn that with colourful houses and scattered boats, you can turn an ordinary marina look like a slice of Paradise.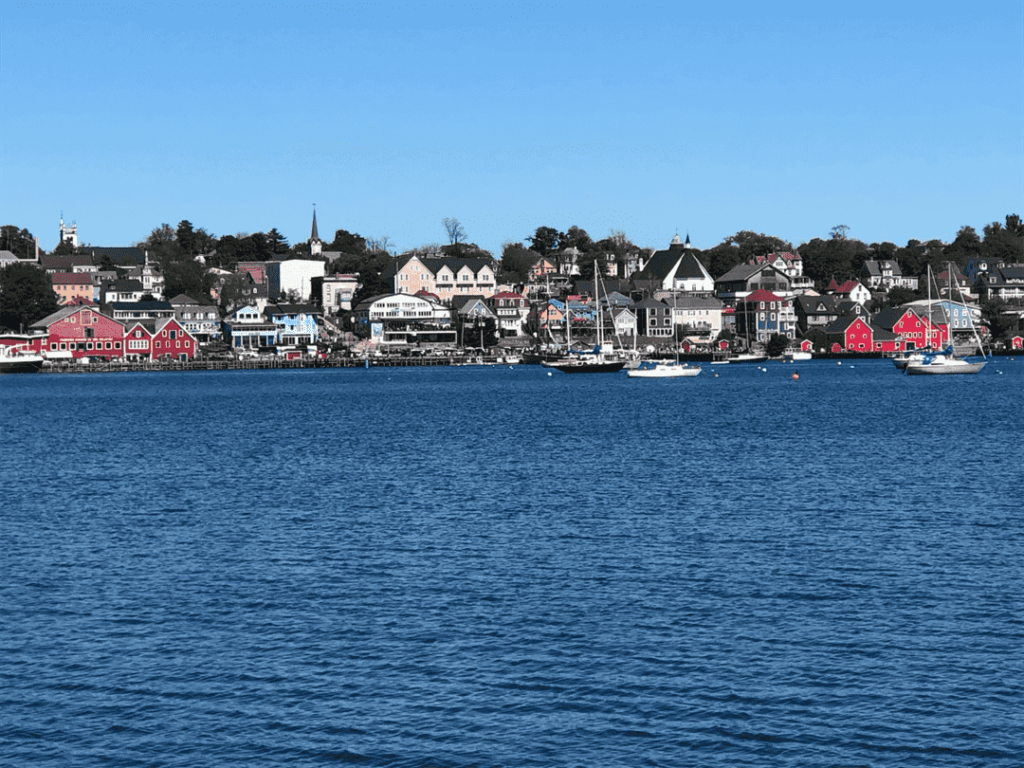 After spending an hour or so in Lunenburg, we started our onward journey to Port mouton where we booked our Airbnb for the night's stay. On the way we stopped at Crescent beach, a very beautiful Sandy beach where you can drive your car close to the waves. It was an awesome experience and first of its kind. As we travelled along, at Hunt's point, we had our dinner, the lobster, fish sandwiches and haddock soup was very fulfilling. Our next stop was at Carter's beach, a small beach with very soft sands. The beach was good enough for anyone to take an enjoyable dip.
As we checked into our Airbnb in the evening , we were fully tired. A warm bath followed by slumber came into our rescue.
(The writer is an I.T. consultant and lives in Toronto. Views are Personal)