Bhaskar Parichha
Bommireddy Nagi Reddy, the veteran filmmaker from South India was born in Kadapa in Andhra Pradesh on 2 December 1912. Nagi Reddy was a pioneer in the traditional sense. A doyen of the Indian film industry, B Nagi Reddy's contributions to society was immense and he touched the heart of the common man in an assortment of ways.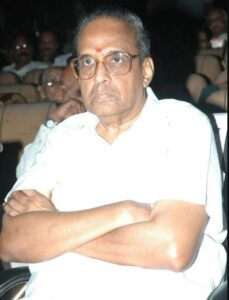 The man who came from a humble background achieved his goals despite many trials and tribulations. He broke new ground in whatever field he worked in. Be it printing, film production, health care and even publishing, Nagi Reddi always led the way and there was no stopping him in all that he ventured into. His contributions are, however, best seen in the field of philanthropy which is to be felt rather than told. 
Nagi Reddy had a strong urge to give back to society what he had gained from it and this propelled him to start the multi-specialty Vijaya Hospitals in Chennai which provides quality health care at affordable prices. The Vijaya Medical & Educational Trust was founded in 1972.
The trust runs the Vijaya Hospital, Vijaya Health Center and Vijaya Heart Foundation (1996). From a lowly 30 bed hospital to a 750 bed multi-specialty hospital in the private sector, the Vijaya Group of Hospitals has grown by leaps and bounds in Chennai's health care network during the past four decades. Vijaya Hospital is one of the leading hospitals in Cardiology and the Group's other establishments have the distinction of being innovators in a diverse range of health care.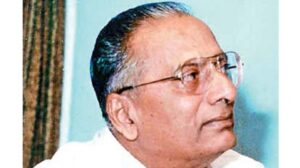 Nagi Reddy had produced over 50 films in all the four south Indian languages as well as in Hindi. His oeuvre included mythological, devotional and historical movies – primarily in Telugu – for four long decades. Making classics was his strong point. Interestingly, his film making was preceded by the setting up of 'Vijaya Vahini Studio' in Chennai which was then Asia's biggest film studio.
It was from this studio that all his films were produced. Unfortunately, it was closed down after the Tamil film industry moved out of studios in the 1970s. This gave way to the construction of Vijaya Hospital and Vijaya Health Centre on the studio premises. Cinema's loss was health care's gain. Yet another remarkable facet of Nagi Reddy's film production was his friendship with Aluri Chakrapani – the legendary screenwriter. He made most of his films in association with Chakrapani. So close and intense was the association that he stopped producing movies after the death of Chakrapani – Reddy's all-time friend, partner and guide.
Nagi Reddy's Telugu films were rightly called 'golden films'. Whether it is Patal Vairavi (1951), Missamma (1955). Maya Bazaar (1957) or Gundamma Katha (1962), these, and other films in that order, are timeless wonders. The critically acclaimed 'Mayabazar' is considered one of the enduring classics of Indian cinema. It was a landmark achievement in Indian film's cinematography, art direction and visual effects with the technology available at the time. A digitally re-mastered color version was released in 2010.
Gundamma Katha (the story of Gundamma), too, is a milestone film in the Telugu hinterland even today. The cast was superb-NT Rama Rao, A Nageswara Rao, Savitri, Vijaya Laxmi, Yamuna and of course the redoubtable Relangi. This film was also a musical masterpiece. Ghantasala Venkateswara Rao scored dazzling tunes while lyricist Pingali Nagendra Rao coined some wonderful expressions. With the use of excellent narrative skills by director Kamalakara Kameswara Rao, the right cast and stupendous camera work by Marcus Bartley, Chakrapani-Nagireddy gave a wholesome entertainer in the form of 'Gundamma Katha'.
Producer Chakrapani later made the Tamil version of Gundamma Katha as 'Manithan Maravillai'. But it flopped at the box office and was no match for the amazing success of the Telugu original. Gundamma Katha is regarded as the last film of Vijaya Studios' 'Golden Age'. Nagi Reddy also made some Hindi movies and these too were hits – Ram Aur Shyam, Julie, Swarg Narak, Shriman Shrimati and Ghar Ghar Ki Kahani. For his enormous contributions to Telugu and Tamil cinema in India, Nagi Reddy won several awards, including the prestigious Dada Saheb Phalke Award in 1986.
Nagi Reddy's foray into publishing began with 'Andhra Jyoti' in 1945 and Chandamama- the children's magazine published in twelve Indian languages- just after independence. He was also the publisher of 'The Heritage', a monthly magazine on art and culture which was edited by veteran writer and novelist Manoj Das. The magazine stopped publication after being published for a marathon five years.
B Nagi Reddy's multi-hued personality was something of a legend. This veteran filmmaker passed away on 25 February 2004 leaving behind a rich legacy of movies unmatched in the history of Indian cinema.