Bhaskar Parichha
A scholar of eminence, literary commentator, and author of numerous books in Odia and English, Prof Chita Ranjan Das is known as 'Socrates of Odisha.'
The year 2023 is the centennial of the birth of thinker, educationist, critic, pioneer of Odia non-fiction writing, and one of the finest translators Prof. Chitta Ranjan Das. 'Chittabhai' – as he was known throughout Odisha – was the most prolific writer, with numerous diaries, essays, reviews, autobiographies, memoirs, columns, textbooks, and monographs.
Many eminent writers were born in Bagalpur village in Jagatsinghpur district. Chitta Ranjan Das was the third child of five brothers and three sisters. He attended Punang School after schooling in his native village. Afterward, he attended Ranihat Minor School and Ravenshaw Collegiate School. In 1941, he passed the matriculation examination and enrolled at Ravenshaw College, Cuttack, for higher education. However, he became involved in the independence movement. His inspiration came from Manmohan Mishra.
During his Ravenshaw student days, he was an active member of the Communist Party of India. In 1942, he joined the Quit India Movement and was imprisoned. During his jail term, Chittaranjan acquired many skills, including learning languages, particularly French. In 1945, Das was released from prison and attended Shantiniketan. During his academic career, he was exposed to a wide variety of intellectuals, thinkers, and writers. He was deeply influenced by their works.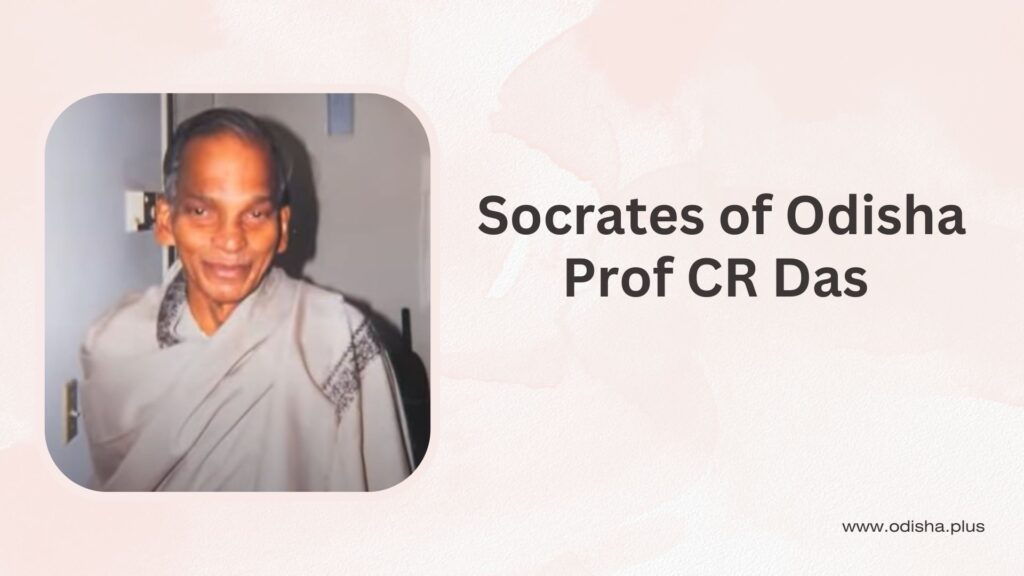 His studies in psychology, sociology, and cultural anthropology continued in Europe and abroad in the years that followed. He was trained in clinical psychology at the Vienna School established by Sigmund Freud. It was here that he met the philosopher Martin Buber. He continued his studies at Shantiniketan and later at Copenhagen University, Denmark.
He returned to Odisha in 1954 and joined the Jibana Vidyalaya, a school for Gandhiji's basic education, at Champattimunda established by Nabakrushna Choudhury and Malati Devi. Later on, he became the Head Master of this institution inspired by Gandhian ideals of living independently. He left Champattimunda after 4 years and took a teaching assignment near Agra.
Sri Aurobindo's philosophy drew Chitta Ranjan to the revered sage's teachings. Upon returning to Odisha, he taught at the Institute of Integral Education in Bhubaneswar, based on Sri Aurobindo's values. This was in 1973. While he did not stay for long, he remained associated with this movement until he died in 2011.
Chitta Ranjan considered the whole world to be his home. He was proficient in a wide range of languages, including Hindi, Urdu, Bengali, Assamese, Sanskrit, Danish, Finnish, French, Spanish, and English. His vast studies covered many areas of social and human sciences like philosophy, psychology, religious studies, and linguistics as well as school studies. His knowledge is reflected in 250 books he wrote or translated into Odia.
He was a regular contributor to newspapers and his columns appeared in major Odia dailies like Dharitri, Pragativadi, Sambad, Samaja, and more. These short pieces have been compiled into books that give insight into his views on contemporary issues. His first writing was an article in a school magazine. The article 'Socrates' appeared in 1937 in the Ravenshaw Collegiate magazine Sikshabandhu.
Chitta Ranjan Das traveled widely around the world. During his travels, he closely examined the social, cultural, and political life of the countries he visited. He wrote books describing his impressions. He has translated into Odia many books from countries he visited written originally in other languages. His translation work is vast. His understanding of the topic and the translation of the books make for a pleasant reading experience.
He was an excellent diary writer. These captured his feelings about many incidents. The autobiographical diary entries have been published as 'Rohitara Daeri' (Rohit's Diary), a series of over 20 volumes. His love for the mother tongue was unparalleled. Despite excellent command of more than a dozen languages, including German, Danish, and Finnish, as well as Sanskrit, Pali, Urdu, and Bengali, he wrote mostly in his mother tongue, Odia.
His contribution to Odia literature was huge because he translated the works of many prominent writers – Bengali writer Ashapurna Devi, polymath Albert Schweitzer, French novelist François Mauriac, British-Indian anthropologist Verrier Elwin, Danish poet Karl Adolph Gjellerup, French writer Antoine de Saint-Exupéry, Lebanese-American poet and writer Kahlil Gibran. Boris Pasternak, Sarvepalli Radhakrishnan, and Mahatma Gandhi.
Sri Aurobindo's principal philosophic work – a theory of spiritual evolution culminating in the transformation of man from a mental into a supramental being and the advent of a divine life upon earth – Life Divine is Chittranjan Das's significant work.
Many awards have come his way. In 1960, for his essay 'Jeevana Vidyalaya' he was awarded by the Odisha Sahitya Akademi. He was given the Sarala Award in 1989 for his essay 'Odisha O Odia '. He was conferred with the Kendriya Sahitya Akademi Award in 1998 for his book 'Biswaku Gabakhya' (Window to the World). He bagged more accolades from Prajatantra Prachar Samiti, Gangadhar Rath Foundation, Utkal Sahitya Samaj, and Gokarnika.
Chitta Ranjan Das's works incorporate both creative experimentation and a transformative philosophy. He has worked in education, literature, cultural creativity, and artistic criticism. During his lifetime, he was instrumental in the growth and development of numerous social action and development groups. Throughout his writings, he discussed self-development, social change, and mankind's evolution. His Odia autobiography 'Mitrasya Chakhusa' (Through the Eyes of a Friend) is an extraordinary work in the genre.
(Bhaskar Parichha is a Bhubaneswar based senior journalist and columnist. Views are personal)