OdishaPlus Bureau
UNICEF-led Youth4Water Plus, along with U Report India, launched an Online Social Media Chatbot at KT Global School Khordha on Tuesday. Popular ollywood actress Anu Chowdhury flagged off the programme.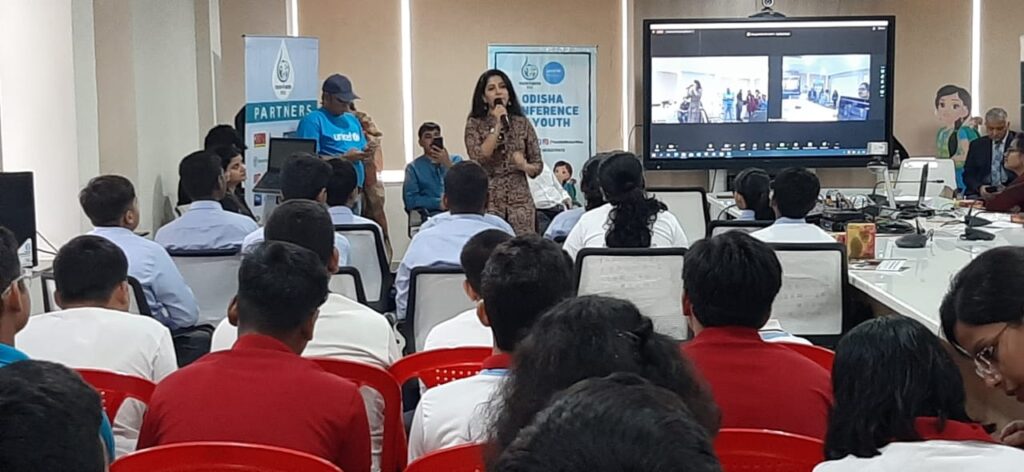 U-Report is a social messaging tool and data collection system developed by UNICEF to improve youth engagement, inform leaders, and foster positive change. The programme sends SMS polls and alerts to its participants, collects real-time responses, and subsequently publishes the gathered data. Issues polled include health, education, water, sanitation, and hygiene; youth unemployment; HIV/AIDS; disease outbreaks; etc.
On the occasion, Shipra Saxena, WASH and CCES Specialist, UNICEF, said, "Climate Change is now the biggest challenge for all of us. We believe in the power of youth engagement and technology to drive positive change. Through this initiative, we aim to amplify youth voices, raise awareness, and inspire a new generation of climate champions".
This innovative initiative aims to revolutionise Water, Health, and Sanitation (WASH) and Climate Change advocacy by leveraging technology and engaging young people in the area of Climate Change and a sustainable future.
Speaking on the occasion, Dr. Rabindranath Pati, Director of KT Global School, said, "Let's admit that we have misutilized our natural resources and left our next generation to bear the brunt of this crisis. So now it is high time that we take action for a better, sustainable future".
As global warming and climate change become critical challenges worldwide, it is crucial to involve youth and harness the power of technology to find innovative solutions. The Youth4WaterPlus chatbot programme on U Report provides a platform for young individuals from all corners of the globe to share their stories, concerns, and ideas on combating Climate Change issues.
Amitayush Priyadarshi, Communication and Digital Media officer at UNICEF, informed "The chatbot utilizes an interactive and user-friendly interface to facilitate active participation in discussions surrounding water conservation, access to clean water, sanitation, and climate change challenges. By breaking down barriers of language, location, and time zones, the chatbot ensures inclusivity and accessibility for a diverse global audience".
The programme currently has 26 lakh U Reporters in India and 28 million globally in 95 countries.
The event was attended by Faculty and members of KT Global School, members of Satwik Soul Foundation, Bharat Scouts and Guides, Pantiss Foundation, and members of the National Youth Project (NYP)