OdishaPlus Bureau
A brief interview with Sanjoy Patnaik, the author of the book Of Reels, Romance And Retakes.
Sanjoy is a filmmaker, film & theatre actor and development specialist.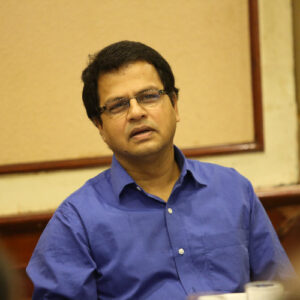 Q: What led you to write 'Of Reels, Romance and Retakes' on Odia film history?
The first driving force is obviously my love for cinema.
Secondly, I realised there is an absolute dearth of critical writing on Odia cinema in English language for the opinion making urban middle class, who hardly watched Odia cinema nor read Odia cinema reviews in vernacular language.
Thirdly, it was important that we tell the story of our rich celluloid history to the external audience in a language that they can understand. If you don't tell your story, nobody else will.
Q: It looks like you have done a lot of research and analysis to write this book. How long it take to complete the book?
The objective of the book was to understand Odia cinema within the larger perspective of our people, literature and art forms. It was certainly not a work that chronologically lists events or narrates anecdotes. It is more about cinema as a symbol of ethno-cultural identity apart from being a product for entertainment. There has been some work done on Odia literature and identity but not on cinema, which post independence heavily depended on literature.
Therefore, data gathering solely through secondary sources emerged as a big hurdle. I, therefore, spent significant amount of time in personal interviews of eminent film and literary personalities, used a comparative approach with Bombay cinema. The book took me little more than two years to complete.
Q: The London based publisher Routledge has published it. Why have they taken an interest in doing so for a subject like Odia films?
I believe it is for two reasons; a) the book is scholarly and has significant academic flavour that Routledge is interested in,
b) dearth of books on Odia cinema or literature in their repertoire. 

Q: What's the time frame of this book? Is it chronological Odia film history?
One of the key thrusts of book is to analyse the cinema – literature camaraderie in Odisha post independence. So the book has picked up films based on classics that are made within four decades of independence – largely the black and white era. As I said earlier, the book doesn't chronologically list Odia cinema.

Q: It is written in the blurb of the book that your book has included a lot of Odia cultural history in it. Why have you indulged in cultural history while writing the book on Odia films?
The history of the growth of vernacular cinema in India goes back to the times of freedom struggle, whether it was Raja Harischandra (1913), Bilwamangal (Bengal, 1919), Joymati (Assam, 1935) or Sita Bibah (Odia, 1936). Each language and state had to reaffirm their distinct cultural identity through this new medium when a multi-nation country was about to be born.
Sita Bibah in Odisha came in the same year when Odisha became the first state to be carved out on linguistic basis. I have tried to argue in the book that cinema since then grew up as a critical art form for cultural unification and withstand cultural, especially language domination. We were a dispersed nation – partly in Central provinces, partly in Bihar and partly in Bengal prior to 1936. Therefore, our cinema had to reflect our culture and that is why Matira Manisha, Amada Bata and Malajanha are exemplary images in our cultural history.
Q: In what way your book will supplement to Odia film studies?
I believe this book will be handy for students of cultural and film studies in several ways: a) this is a socio-historical work that uses places Odia cinema in the national context,
b) it creates a framework to understand cinema within the larger social narratives of tradition-modernity, rural urban divide, caste dynamics, breaking of joint family, middle class conservatism,
c) the book also engages the reader in a regional – national debate and the dynamics of regional cinema market and its promotion.  

Q: When is this book going to be available in India? 
I expect it to be in market by mid June.
Q: Where do you look forward to with this book? 
When I wrote this one there was limited reference material.
But I think this book will help motivate additional research and the production of more such books critically analysing our cinema.