OdishaPlus Bureau
Emphasizing that environment is not just a global cause, but the personal and collective responsibility of every individual, Prime Minister Mr Narendra Modi, in a message shared at the inaugural session of the 22nd edition of the 'World Sustainable Development Summit (WSDS)' in New Delhi on Wednesday, said "The way forward is through collectiveness rather than selectiveness."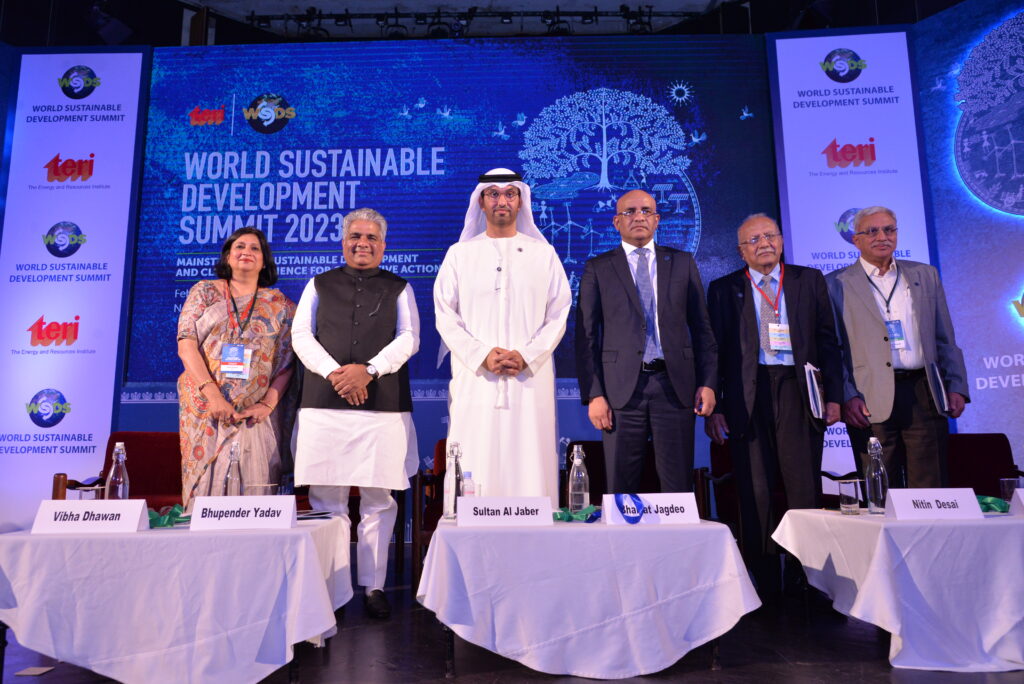 "Environment conservation is a commitment and not compulsion for India," observed the Prime Minister, while underscoring the transition towards renewable and alternate sources of energy, and the adoption of technology and innovation measures to find solutions to urban challenges.
"We have adopted a multi-dimensional approach to chart a long-term roadmap for sustainable and environment friendly lifestyle," Modi said.
In his inaugural address at the Summit, being held on the theme, 'Mainstreaming Sustainable Development and Climate Resilience for Collective Action', from February 22-24 by The Energy and Resources Institute (TERI), Dr Bharrat Jagdeo, Vice President of Guyana, gave a clarion call to significantly focus on the principles of equity and justice at forums, such as the G20 and the COPs. He pointed out that it is impossible for many developing countries to achieve Sustainable Development Goals (SDGs) without financing.
"The small countries not only need climate finance, they need a reform of the global financial system to achieve sustainable development," said Dr Jagdeo. He also pointed out that climate resilience and sustainable development are interlinked. "Most of the countries in the Caribbean are fiscally and debt stressed. Unless these issues are addressed now by some of the multilateral agencies, these countries will never be able to have a sustainable, medium-term economic framework, leaving much less to address the catastrophic damage of weather related events," Dr Jagdeo added.
He underscored the criticality of balance in the discourse on sustainable development in order to find lasting solutions. "We need to reduce the production of fossil fuels, we need carbon capture, utilization and storage, and we need a mass transit into renewable energy. It is the combined action on all three fronts that will deliver lasting solutions. But often the debate is between the extremes, and sometimes it clouds the search for solutions. Balance is crucial," observed Dr Jagdeo.
In his opening address, Bhupender Yadav, Union Minister for Environment, Forest and Climate Change, said that the second batch of Cheetahs from South Africa have been successfully introduced in Kuno National Park in Madhya Pradesh on February 18. "The vision of correcting ecological wrong into ecological harmony is taking shape and is being reflected in the grassroots," said Mr Yadav.
The Environment Minister noted that combating climate change, biodiversity loss and land degradation transcend political considerations and is a shared global challenge. "India is contributing significantly to be a part of the solution," he said.
India's taking over the G20 Presidency has brought global attention to the discourse around sustainable development, especially in the UN critical decade of action, he noted.
The COP28-President (designate)-UAE, Dr Sultan Al Jaber, in his keynote address noted that the theme of this edition of the WSDS — 'Mainstreaming Sustainable Development and Climate Resilience for Collective Action' – is "a call to action" and will be central to the agenda of the UAE COP.  "We will aim to unite all parties around inclusive and transformational progress. The goal of keeping 1.5 degree Celsius alive is just non-negotiable. It is also clear we cannot continue business-as-usual. We need a true, comprehensive paradigm shift in our approach to mitigation, adaptation, finance, and loss and damage," said Dr Al Jaber.
Observing that India is on its way to becoming the third largest economy, he asserted that India's sustainable development is critical not just for the country, but the world. He added that the UAE will explore opportunities of partnership with India in its high growth, low carbon pathway.
In his welcome address, Nitin Desai, Chairman – Governing Council, TERI, underlined the link between conserving resources and promoting sustainable livelihood, as well as sustainable consumption and sustainable production. "The idea of sustainable lifestyle has to become an important component of the global dialogue on sustainable development," said Mr Desai.
With the world approaching the crucial midpoint of the 2030 Agenda and the sustainable development goals, Dr Vibha Dhawan, Director General, TERI, said, "It has been more than 50 years since the 1972 Stockholm Conference. Since then, the world has made many strides in bringing to the forefront the issues related to the environment, biodiversity loss, climate change, and has achieved many milestones in integrating sustainable development into the public, private and societal discourses. But we still have a long way to go especially in terms of horizontal and vertical integration of sustainable development across spheres."
Dr Shailesh Nayak, Chancellor, TERI School of Advanced Studies felicitated Dr Al Jaber with the Distinguished Alumni Award. 'An Assessment of Avoided Co2 Emissions During Construction, Maintenance and Operation of National Highways', a study jointly conducted by TERI, CSIR, IORA, and IIP (Indian Institute of Petroleum), was released during the session.
Earlier, speaking at the opening session of the Summit, Mr Jeffrey D Sachs, Professor, The Earth Institute at Columbia University, urged the developing world to be the leaders of sustainable development. "We need the whole world in the lead. We need India to be in the lead, we need China to be in the lead, we need Brazil to be in the lead," he said.
Mr Manish Bapna, President and Chief Executive Officer, Natural Resources Defense Council, too emphasized the vital role India can play in leading the movement towards sustainable development.
The three-day Summit will have Ministers from across the world, top government representatives, political and thought leaders, and chiefs of international organizations deliberating on critical themes of G20 leadership and Green Development Pact, equity and climate justice, driving and financing sustainable development, inclusive green growth, energy transitions, and sustainable lifestyles.