OdishaPlus Bureau 
Odisha is soon going to have a 'Menstrual Health and Hygiene Policy' with the twin objectives of creating mass awareness about menstrual health and hygiene and, thereby, empower women and adolescent girls to lead a hassle free life with optimum health and hygiene during menstruation period without doubts and inhibitions.
The draft proposal of the 'Odisha Menstrual Health and Hygiene Policy', prepared by the Indian Institute of Public Health (IIPH), Bhubaneswar- with support from UNICEF, was unveiled by the Mayor of Bhubaneswar, Sulochana Das, at a dissemination workshop in Bhubaneswar recently.
The workshop was graced by a list of distinguished guests, including Dr. Itirani Samanta, Director Kadambini Media, Deputy Director, Projects, Kalinga Institute Sanghamitra Ray, Chairman OTDC Dr. Lenin Mohanty, Director, RMRC Dr. Sanghamitra Pati and Joint Director OSEPA Rajashree Patnaik, among others.
"There is a pressing need to sensitize adolescent girls and women living in slums in urban areas about menstrual health and hygiene. Still there are places where adolescent girls have little knowledge about menstrual health. In such cases, mothers, teachers, friends and peers play a significant role in sensitizing about menstruation. Their guidance will help make the menstruating girl spend quality life," said Bhubaneswar Mayor Sulochana Das who was the Chief Guest on the occasion.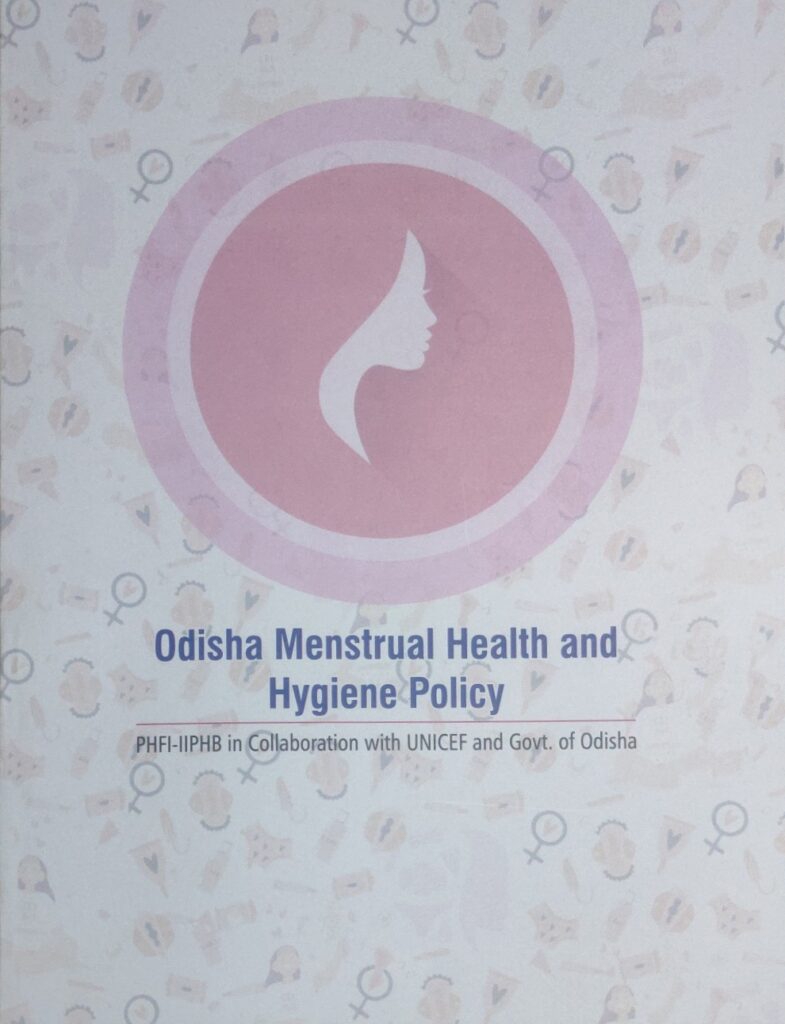 In her address, Director, Kadambini Media, Dr. Itirani Samanta said, "The awareness programme should not be confined to urban areas only. Rather, it should also focus on the menstrual health and hygiene education of young & adolescent girls as well as women in villages. There is also a need to create awareness among men in villages about menstrual health and hygiene so that they can extend their cooperation in dispelling the societal myths and taboo associated with menstruation."
Giving a personal reference, Dr. Lenin Mohanty, Director OTDC, said, "The taboo around MHH is still there in our society. We the 'Men' need to work together with other stakeholders and change makers to end the conservative mindset."
Joint Director OSEPA Rajashree Patnaik and Director RMRC Dr. Sanghamitra Pati dealt in details about the various misconceptions existing in society about menstruation. Women are prohibited from taking part in various religious activities and cooking during menstruation. However, time has come to overcome these archaic notions and move ahead in life in the present progressive educated society.
A thematic animation video in Odia, titled 'HIRA- Let's Talk Period', produced by 'Swasthya Plus', India's leading digital health awareness platform, was previewed on the occasion.
Founder, SwasthyaPlus, Siddharth Rath, who spoke at the workshop, said, "Young girls often get scared during their first period as they don't know what is happening to their body. They don't know how to react and look out for trustworthy guardians who can give them valuable advice."
He added, "I think it is very important for everyone to ensure that every girl has a very happy, healthy and fear-free childhood. In that context, this workshop is a great opportunity for everyone to come together to really make something substantial at policy level."
An interactive session on the Odisha Menstrual Health and Hygiene Policy draft proposal was held on the sidelines of the main programme which was participated by other guests present on the occasion. The discussions focused on the various issues faced by women in urban and rural areas during menstruation. Senior UNICEF officials including Dr Meena Som, Health Specialist UNICEF, lecturers from IIPHB presented their view points on the queries raised by the esteemed guests & participants.
A lot of things remain to be done in the field of Menstrual Health and Hygiene in Odisha. Given the background, the draft policy on Odisha Menstrual Health and Hygiene which is prepared by IIPHB, with support from UNICEF, carries significant importance in that direction. It is going to play a leading role in the health and wellness of adolescent girls in the state in the coming days.
Tags: #HygienePolicy #UNICEF #MenstrualHygiene #MenstrualHealth #SwasthyaPlus #HealthNews #LetsTalkPeriod #OdishaNews #HIRAMIRA #digitalhealthawareness