OdishaPlus Bureau
Dazzling Drone Show, Cultural Programmes Mark Opening Ceremony
The third edition of the 'Make In Odisha Conclave', Odisha Govt's flagship investor summit, was inaugurated by Chief Minister Naveen Patnaik at the Janata Maidan ground on Wednesday.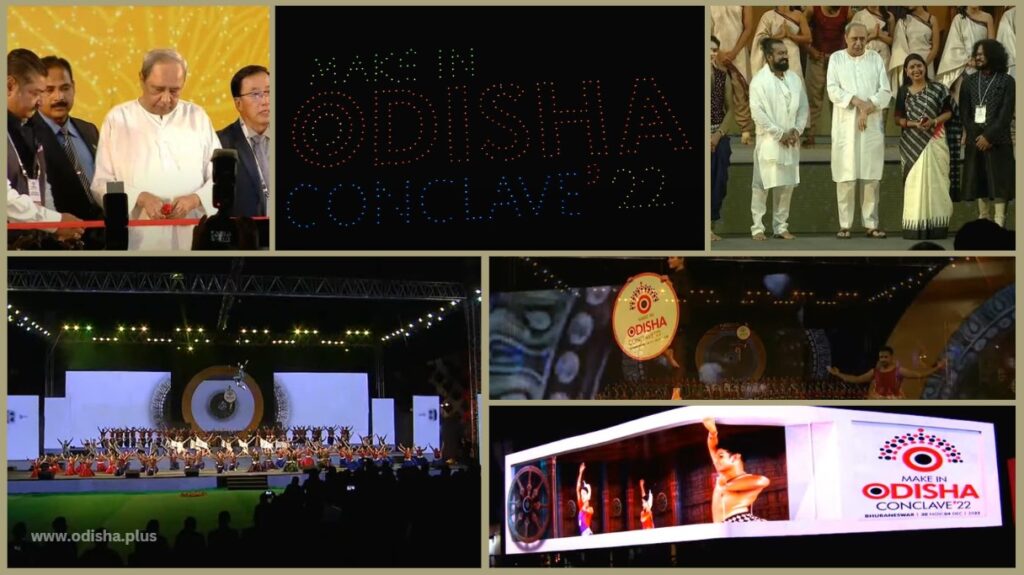 Patnaik, who came to the venue accompanied by the esteemed guests on the occasion, cut the ceremonial ribbon on the dais to make a formal announcement of the opening of the 'Make In Odisha Conclave 2022' amid cheers and applause from the audience. The five-day mega event will continue till December 4.
Thereafter, Patnaik visited the stalls on display at the venue. This was followed by a spectacular drone and laser show on the Make In Odisha Conclave '22 theme.
The tech show was followed by a mesmerizing display of various cultural and classical group dances under the direction of noted exponent Kedar Mishra and Guru Aruna Mohanty. The dances depicted the developmental story of Odisha after Independence. The artistes presented a lively demonstration of the education, industry, Mission Shakti and Skill Development prowess of the state through thematic dances.

Industries Minister Pratap Keshari Deb, Chief Secretary Suresh Chandra Mohapatra, Principal Secretary, Industry Hemant Sharma, Development Commissioner Pradip Kumar Jena, 5T Secretary V K Pandian, Mayor of Bhubaneswar Sulochana Das and Cuttack Mayor Subas Chandra Singh were present at the inaugural ceremony.
Delegates of Country Partners including Ambassador of Japan to India Hirosi Suzuki, Ambassador of Norway to India Hans Jacob Frydenlund and Counsel General of Germany to India Manfred Auster, along with Ambassador of Nepal to India Dr. Shankar Prasad Sharma were present on the occasion.
The Federation of Indian Chambers of Commerce & Industry (FICCI) is partnering with the Govt of Odisha in the Make In Odisha Conclave 2022.