Sambeet Dash 
Sarala Das, the epic poet from Odisha who wrote his version of Odia Mahabharata, Vilanka Ramayana and Chandi Purana was born in the 15th century during the time of the powerful Ganga Dynasty during the Golden age of Odisha. It was the time of formulation of the Odia language which took shape in its modern form and script, becoming robust, achieving maturity, plasticity. Odia became a unique, rare blend of Sanskrit, Prakrit, Pali and Dravidian languages, akin to the choicest blends of the Scotch Johny Walker.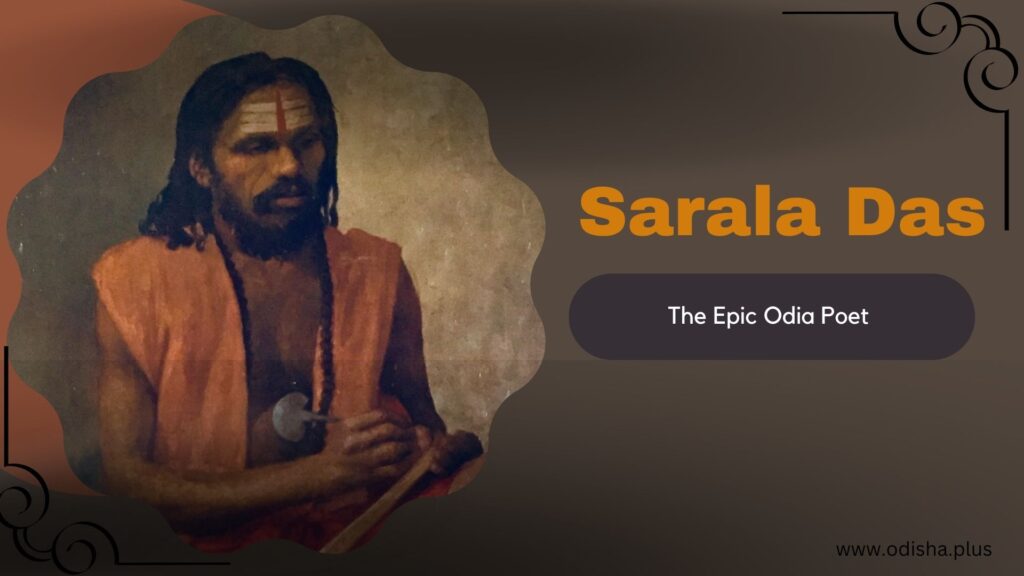 From 11th to 15th century AD, the Gajapati (Lord of Elephants) Kings of Odisha built embarkments on rivers, created impressive architectural structures like the Sun Temple of Konark (Black Pagoda), defended aggression from enemies and built a great civilization. At one point of time the Kalinga empire extended from the Ganges in North to Godavari in the south under King Kapilendra Dev.
But in the age sans contraceptives, the mighty King maintained multiple Queens and concubines who kept on delivering broods of legitimate and illegitimate progenies, laying seeds for future fratricidal conflicts. His descendants involved themselves in internecine wars, managing to sow the seeds of demise of the great Kalinga empire.
History assigns Sarala Das's presence to the time of the mighty Kapilendra Dev in 15th century. The exact year and date of birth of Sarala Das is not known. But what is known that he was born in Jhankada, a place in Jagatsinghpur district near Cuttack in CHASA (farmer) caste. He fought in Kapilendra Dev's army at a time when it was normal for the peasants to take up arms for their King as and when required. During peace time they were back to their usual farming business. They were known as Khandayats or the "Conquerers of Sword" whose descendants form a sizable population of Odisha.
Little is known about Sarala Das's education, but it is likely that he was either illiterate or received minimal education. But poetry effused out of his mouth like a bubbling stream during monsoon which went on bursting knowing no bounds as he churned out Odia Mahabharata, Ramayana and Chandipatha which caught the attention of the commoners who were mostly illiterates and couldn't comprehend our Sansktised epics and scriptures. The power of eloquence and lucidity seen in his poem is attributed to blessings he received from the famous local diety popularly known as "Jhankada Basini (residing) Maa Saralaa.
Odisha is amongst the least casteists states in India along with Bengal and Assam where the attitude towards the caste is basically spiritual. That's why was easier for Sarala Das, also known as Shudramuni from the farming class to be accepted as a non-Brahmin seer. Sri Jagannath, the presiding deity of the state was worshipped by the hill tribes who as per legend are the descendants of Chief Viswabasu who brought the Lord to Puri.
Out of his 3 major works, his Sarala Mahabharat was the work of a genius which surpasses the rest. There are couple of instances where he has added his own angle to the epic, a slightly different version of Vyasa's Sanskrit form of Mahabharat. Duryodhan for some reason had imprisoned all his maternal uncles as well as his maternal grandfather. In the prison he fed them with very little food. The prisoners assured of death plotted their revenge. All of them sacrificed their food and fed it to Sakuni, their most cunning and scheming brother to keep him alive and let themselves starve to death. The wily Sakuni not only survived, but managed to counsel his nephew Duryodhan against the Pandavas with the aim of ending the Kuru Dynasty, the goal he eventually achieved.
The second one was towards the end of the epic 18 day Mahabharat war sensing his impending defeat Duryodhan instructed his only son Laxmansen to flee in order to save his linage. The reluctant son obeyed his father but was killed while trying to escape. Unaware of his son's death Duryodhan was trying to cross a river of blood, mud and dead warriors when he saw the corpse of a well built handsome boy floating with his head down. He turned it over to find it was the body of his only son. The poignant description of this scene by Sarala Das of a helpless father brings out sympathy for Duryodhan from the readers and listeners of Sarala Mahabharat.
During my last trip to Odisha I asked a few college going students if they ever heard of the great Odia poet Sarala Das. Most of them said they never heard the name. Couple of them said they have never heard of her, thinking Sarala Das was a female. It prompted me to write a blog to highlight one more forgotten literary hero of Odisha.
(Mr. Sambeet Dash is a technocrat who lives in the USA, views are perosonal)
Tags: #Odishapoets #PoetSaralaDas #Poetjourney #Odisha #odiamithology #Mahabharat #OdiaMahabharata