Manas Ranjan Mahapatra
National Book Trust, India (NBT) was not known in Odisha in 1990 until I took over as its Odia Language Editor. At one point, my name and NBT were synonymous in Odisha. People still contact me for some work in NBT even after two years of my retirement. This is a great honor than any monetary award which is managed these days by many.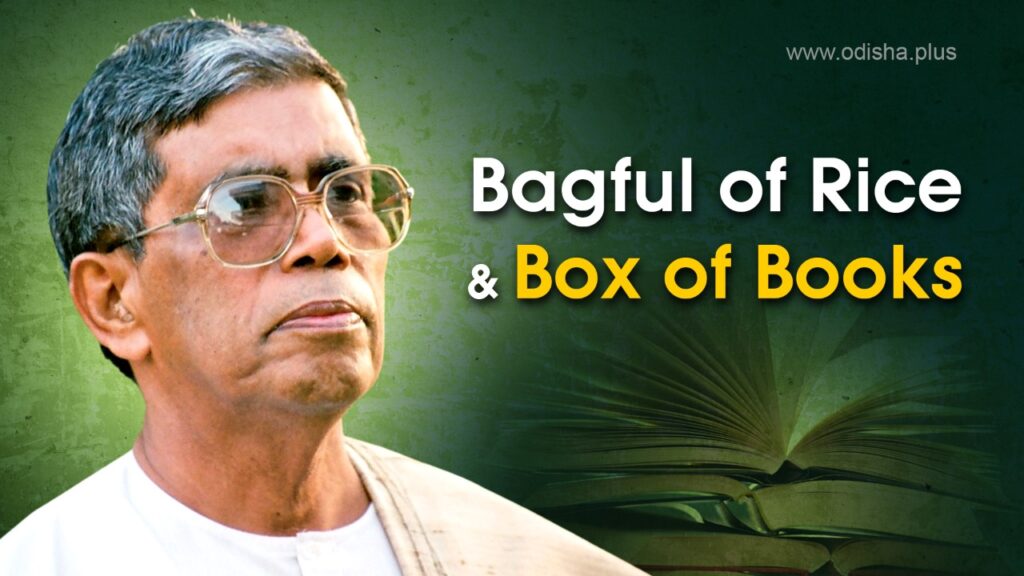 Dr. Sitakant Mahapatra has been one of the most successful authors in Odisha in the last half a century so far as awards and recognitions are concerned. I have worked with him as an Editor for three years in NBT when he was the Chairman besides half a century of literary association with him since my college days as a student leader when he was Education Secretary of Odisha. Arguably, Sitakant Mahapatra is the most popular Odia author next to Prof Manoj Das during my journey as an editor and poet. I have had a plethora of sweet and sour experiences with him.
Sitakant Mahapatra got the Sahitya Akademi award for his book Sabdara Akasha when I was in my secondary classes. Interestingly, by that time, Ramakanta Rath, the leading voice of that period, had not got this award, two senior poets, Radhamohan Gadanayak and Jagannath Prasad Das too. Sitakant Mahapatra was the Secretary of Education or Cultural Affairs Department of the state at that time. In my small town
Puri, there were only two bookshops Bharati Bhawan and Vidya Bhawan that used to keep library books at that time. I rushed by my bicycle to them. But, the book was not available.
A few days after, my teacher late Lokanath Saha got a copy of the book from Cuttack, the hub of Odia Publishing those days. My poetic career had just begun at that time and I was highly impressed by the revolutionary poetry of Rabi Singh. Sitakant Mahapatra's poems gave me a new taste. I was impressed and chose to follow Sitakant. Soon, I got his books Astapadi and Dipti o Dwuti from Ramakrishna Mission Library, Puri where I was a student member.
I had not seen books of Ramakanta Rath by that time. Jhankar, Nabarabi, Asantakali, and Sucharita were the visible literary Odia Magazines in the mid-seventies. Nabarabi was the most shining one with its Puja issue containing three to four novels, one travelog, approximately a hundred poems, and ten to fifteen short stories. My pocket money was not enough to buy a magazine, I used to get those to read either from Ramakrishna Mission Library or from my teacher Lokanath Saha.
My uncle Sarat Chandra Mahapatra was in the state civil service. He was the first highly educated person in our family, also from our village in those days. He once discovered the poetry books of Sitakant Mahapatra with me. He had a strong literary interest and he asked me for the book. I was so engrossed in reading Sabdara Akasha at that time that it was painful for me to part away with the book. Sitakant Mahapatra was a top bureaucrat at that time in Odisha and such IAS officers who write, like the sub-ordinate officers reading them. My uncle had regular encounters with Sitakant Mahapatra.
Sumant Mishra, son of publisher Mahendra Mishra, was my classmate those days. He was the nephew of poet Ramakanta Rath and I used to listen from him about the literary figures of that time, for they were personal friends of his father. He gave me two poetry books by Ramakanta Rath for reading. Soon, Ramakanta Rath also got the Sahitya Akademi award for his book Saptama Rutu. Sahitya Akademi Convenor from Odisha those days was Jatindra Mohan Mohanty, who was also a friend of Mahendra Mishra, Sumant's father. Incidentally, civil servants and college/ university teachers were known authors at that time to a large extent in Odisha. That situation still continues.
I met Sitakant Mahapatra in 1980 for the first time in Odisha Secretariat when I was a student of BA final at SCS College, Puri. There was a student agitation throughout the state for raising MIL Odia marks from 100 to 200. Being a student leader, I went in a delegation to meet Education Secretary Sitakant Mahapatra.
Our leader Judhistir Jena introduced us to the Secretary. When he introduced me, Sitakant Mahapatra just asked me,' so, with poetry, you do leadership too !' I was stunned to know that Sitakant Mahapatra reads young poets of his time.
More than a decade passed in between. Sitakant Mahapatra got his doctorate in the late 70s and I joined National Book Trust, India as its Odia Language Editor in 1990 after my brief stints in state government and in NCERT. The Advisory Panel for Odia was not reconstituted for two decades. I got it reconstituted with Dr. Sitakant Mahapatra as one of the members. By that time, he was in Delhi as Secretary, Planning Commission. Ramakanta Rath was available, but I preferred Sitakant Mahapatra .
Ten years passed. In between Sitakant Mahapatra became Secretary, Culture Ministry, Government of India. Many ordinary people were invited in those days to go abroad in cultural delegations. He never thought of me, nor I approached him for any favor. In between Ramakanta Rath became a member of the policy-making Board of Trustees of NBT.
One day, Dr. Sitakant Mahapatra visited our Book Shop. NBT was at Green Park those days. I was informed by the Shop Assistant and went to the Book Shop to meet him.
– 'It's good that Ramakanta Babu has become a member of the Board of Trustees of NBT. Next time you can recommend my name, he said.
-'BOT member position is very small for you. You are eminently suitable to be the Chairman of NBT, Sir. Moreover, Prof Joshi was your colleague in Allahabad University as I know,' I said.
Prof Murli Manohar Joshi was the Human Resource Minister. Dr. Sitakant Mahapatra did his MA from Allahabad University and taught there before joining IAS. Murli Manohar Joshi was on the faculty of Allahabad University.
But I never thought that he will take my advice so seriously.
It was in the year 2000, maybe in the month of July. Dr. Sumatheendra Nadig, the then Chairman, of NBT gave me the good news that his friend Dr. Sitakant Mahapatra has been nominated to become the next Chairman, of NBT. I was elated, for he is a senior poet in the language in which I write. Sitakant Mahapatra was one of the selectors of the then Director, NBT Prof Nirmalkanti Bhattacharjee.
After a few months, Sitakant Mahapatra took over. He told me in the welcome meeting about my long association with him. I was elated. I had just shifted to my house at Shalimar Garden, Ghaziabad. One day he called me in the afternoon at the office.
– I have a bag of good quality rice which I can't carry by air to my home in Bhubaneswar.  Since you are going to Bhubaneswar soon by train as I just approved your tour program, will you please carry it and give my wife at my Satyanagar House? My car will drop you at New Delhi Railway Station.
I was happy that my Chairman has given me a responsibility. 'As you please Sir', I said. The other day, his car dropped me at New Delhi Railway Station with a bagful of rice, almost 40 kgs. I had very little luggage, so carrying the rice was not difficult. I gave it to Mrs. Mahapatta after I reached Bhubaneswar at their Satyanagar House.
After a few months, I got a book with a note from the Director that he has gone through the book containing translations of poems for children by Dr. Sitakant Mahapatra and I should examine it for publication in Odia and translation into other Indian languages. The title of the book was Asaranti Piladina and the publisher was Friends Publishers, Cuttack. It was a few years ago received for the first time for consideration for publication by NBT and I wanted to see the originals or the English renderings on the basis of which the translation has been made. No reply was since then received.
I went to Dr. Sitakant Mahapatra and told him my mind:
– Sir, as I remember, I saw this proposal a few years ago and made two observations: I wanted to see the text from which you have done the translations and out of the 42 poems included in the book, only 15 are for children. That opinion still continues. If you consider my opinion good, you can show me the original text and add at least another 15. But, if you are insisting on the publication of this book as it is, you can order me as Chairman, NBT to process it for publication so that I don't have to examine it. In that case, you may not get anything as the compiler as the book is already published by a publisher. The only formality is, that you have to withdraw your permission from the earlier publisher and give it to NBT. But, you will possibly get some payment for the translations.
'Meet me at Bhubaneswar', he replied.
Next time when at Bhubaneswar I met him at his Satynagar house. He showed me a boxful of books from which the translations were made. He then showed me a few more books from which he was proposing to include another 15.
– 'I respect the advice of the editor', he said.
Then he asked me as Chairman of NBT to carry the boxful of books to New Delhi for NBT Library.
(The Author Manas Ranjan Mahapatra is a former editor of National Book Trust, New Delhi. Views are personal)
Tags: #NationalBookTrustIndia #OdiabookPublications #IndianlanguagesAuthors #WritersCommunity #NBTLibrary