Kapilas Bhuyan
If we look at the state of art education in Odisha today, it stands very widespread and satisfying. While on one hand the state boasts of having the oldest Khallikote Govt. Art and Crafts College at Khalikote and premier art institution B. K. College of Art and Crafts at Bhubaneswar, on the other there have been a mushrooming of art schools and colleges at various districts level. Art education in Odisha is streamlined as all these institutions are affiliated to the Utkal Culture University.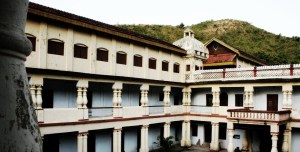 But some six and half decade ago there was no art education facility in the state. The first ever attempt was made by the King of Chikiti Sarat Chandra Deb who after returning being educated in art at the Royal Academy of Art (RAA), London by starting the Utkal School of Art at Berhampur in 1945. The Second World War was just over, and India was yet to get its independence. It was a very difficult time, but he started the school in his Berhampur residence at Utkal Ashram Road to impart art education to only four students, like Raghunath Singh, Laxmidhar Das, Rabi Narayan Nayak and another unknown pupil. Muralidhar Tali and Bibhuti Bhusan Kanungo joined hand and stay put for five days in a week to teach. It was a residential school and Sarat Chandra used to bear all cost. However, it couldn't run for longer due to paucity of funds and got closed by 1950-52. But those three earliest students could subsequently make it to Shantiniketan to continue their studies.
Around at the same time in 1949 there emerged the Bikram Deb School of Art at Jaypur in Koraput district. Bikram Deb Burma, the then King of the Jaypur Kingdom financed a local artist named Simadri Maharana to go to learn art. Simadri was groomed under the tutelage of  the then famous sculptor Debi Prasad Choudhury and returned to run the school after finishing his course. But the school didn't get adequate attention of the then political heavyweights belonging to cuttack-Bhubaneswar as it was located at a far off place like Jaypur. However, the school continued unhindered and being considered as the oldest art school of Odisha.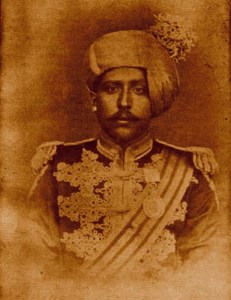 During the same time, Bibhuti Bhusan Kanungo and Gopal Charan Kanungo were jointly running an art school, and had the hope that they would transform it into a larger institution with the govt. support. By that time there had been hustle bustle at the govt. level to establish an art institution at Cuttack. However, the then education minister Lingaraj Panigrahy was more interested to establish the art school in the lap of nature which would be more conducive to the students for their creativity.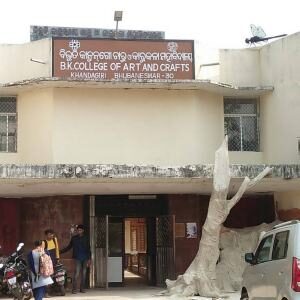 Lingaraj Panigrahy was aware about the fact that the King of Khalliote Ramachandra Marddraj Deo had not been staying in their ancestral palace. A negotiation was initiated from govt. to buy the palace against paying three lakh rupees to which the King of Khallikote promptly agreed, and the Khallikote Govt. Art and Crafts was established in 1957. Sarat Chandra Dev was appointed as the first principal, and the college started formally functioning in 1958 under the Education Dept. of Govt. of Odisha.
Subsequently, Ajit Keshari Ray and Anant Panda, those who were educated in Shantiniketan joined the institute as teachers. As there was a resistance against the western oil painting during then in Shantiniketan, Ajit Keshari Ray and Anant Panda were taught only in wash and tempera mediums. They got exposed to oil painting in Sarat Chandra Deo's studio and accepted it instantly. Besides being finest artists of the state, both of them were very fine art teachers by giving equal importance to modern and traditional art works during their tenure.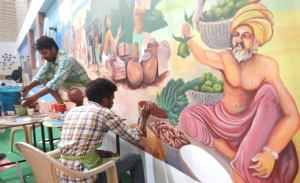 Dr. Dinanath Pathy, the famous artist, art historian and literature, who caused the wide spread of art education in Odisha by establishing B. K. College of Art & Crafts at Bhubaneswar in 1983 was a direct student of both Ajit Keshari and Anant Panda.
Had there not been such initiatives to spread the art education in the state, today, it wouldn't have been possible for us to feel proud of the famous artists like Ramahari Jena, Jagannath Panda and Adwaita Gadnayak, those who have made their mark through their artistic oeuvres at the national and international levels.
(The author is a Senior Journalist, Art Critic and National Award winning Filmmaker)