OdishaPlus Bureau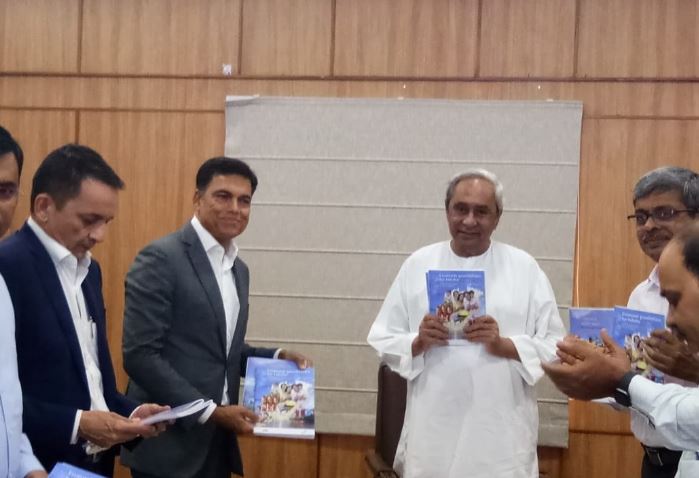 Chief Minister Naveen Patnaik recently released the vision document 'Economic Possibilities for Odisha – towards a One Trillion Dollar Economy'. The document has been jointly prepared by JSW Group and Price waterhouse Coopers India. Releasing the report, Naveen said with the vast natural resources, Odisha is on its way to achieving this objective through its investment-friendly policies, infra connectivity and skilled manpower asserting that Odisha will take a central role in driving the national growth as a manufacturing hub.
The global economy has grown over three times in the past three decades, and it is projected that it could grow more than double in size by 2050. While calling Odisha the 'hidden gem' of India, the report says the state is uniquely poised towards taking a giant leap for growth of metal-based industries, similar to Hebei (a province in China).
The vision document stresses the unique competitive advantages of Odisha over other states, and its potential to become the export hub for metal products across the world. According to the report, Odisha can hit the target if the state focuses on industrial infrastructure, port-led development, and key financial reforms. At present, the size of Odisha's economy is Rs 5, 40,812 crores ($79 billion). There are other reasons for optimism. Odisha being the aluminum capital of South Asia, it accounts for over 54 percent of the country's production and is also India's highest producer of steel and stainless steel. It has three major ports such as Paradip, Dhamra, and Gopalpur.
But the report, while detailing the economic possibilities, also states that despite Odisha's mineral wealth and long coastline, the state only contributes about 2 percent of the national exports. It says only 34 percent of the state's rural areas have formal financial services. More than half of the 7K gram panchayats have no access to formal banking services. The report also states that Odisha has not been able to attract many foreign direct investment-led projects, as compared to other industrial states of India. Citing data from the RBI, the report states FDI inflow into Odisha was just 0.14 percent among key regions of India.
Seen realistically, the potential of mineral-based industries in Odisha along with other sectors like agriculture, food processing, creative industries, MSMEs, women entrepreneurship can play a definite role in making Odisha a one trillion dollar economy. There are important areas to be looked into. Under infrastructure development, metal and downstream parks, townships, clusters by the government need to be developed and dedicated infrastructure for high-value addition downstream sub-sectors in areas such as defense and automobile should be explored.
Also, there is room for the facilitation of slurry pipelines for ore transportation. Furthermore, augmentation of the railway density which is among the lowest. Railway systems have to be connected to mineral hinterlands to industrial clusters and ports. For exports, the capacity of seaports and development of inland waterways needs to be raised. The report being predominantly futuristic, a lot will depend on how things shape up in the coming years.