OdishaPlus Bureau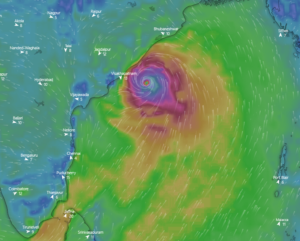 With only a few hours left for Cyclone 'Fani' to strike Odisha coast, the government has begun evacuating people from the affected districts. Some eight lakhs people are to be evacuated, mainly from low-lying areas. By Thursday noon about fifty thousand people have been evacuated to safer places. More than three thousand cyclone shelter homes have been arranged.
Puri is mostly going to bear the brunt, if advanced warnings are any indication. Storm surge between five and seven meters will be accompanied by  heavy rains in Puri and Jagatsinghpur.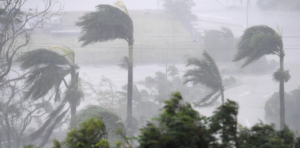 The Indian Meteorological Department in its early morning bulletin on Thursday has categorized the cyclone as 'extremely severe.' IMD predicts that Cyclone Fani is likely to move north-northeastwards and cross between Gopalpur and Chandbali around puri by 3rd May with maximum sustained wind speed of 170-180 kmph gusting to 200 kmph.
Extremely Severe Cyclonic Storm FANI about 450 km south-southwest of Puri at 0530 hrs IST of 02nd May, 2019. To cross Odisha coast around Puri by afternoon of 3rd May. https://t.co/wRl94BRtm1 pic.twitter.com/nzGmV2Jr6O

— India Met. Dept. (@Indiametdept) May 2, 2019
Five hundred ODRAF and an equal number of fire teams have been put in readiness to fight the situation. Twenty-five NDRF teams have also been engaged.
Chief Minister Naveen Patnaik reviewed the cyclone preparedness in Secretariat. Various departmental secretaries were present in the meeting. The CM has directed collectors of Puri, Khurdha Jagatsingpur, Kendrapara Ganjam, Gajapati and Cuttack to expedite evacuation in the low line areas. "We are fully prepared, there is no need for fear or panic," the chief minister tweeted.
ସମ୍ଭାବ୍ୟ ବାତ୍ୟା 'ଫନୀ' ନେଇ ଭୟଭୀତ ହୁଅନ୍ତୁ ନାହିଁ। ବାତ୍ୟାର ମୁକାବିଲା ପାଇଁ ସରକାର ପୁରା ପ୍ରସ୍ତୁତ ଅଛନ୍ତି। ପ୍ରତିଟି ଜୀବନ ଆମ ପାଇଁ ମୂଲ୍ୟବାନ। ମହିଳା, ଶିଶୁ, ବୃଦ୍ଧବୃଦ୍ଧା ଓ ଭିନ୍ନକ୍ଷମମାନଙ୍କୁ ସ୍ୱତନ୍ତ୍ର ଦେଖାଶୁଣା କରନ୍ତୁ। ଶାନ୍ତ ରୁହନ୍ତୁ, ସରକାରଙ୍କୁ ସହଯୋଗ କରନ୍ତୁ। #OdishaPrepared4Fani pic.twitter.com/wev9juMaTI

— Naveen Patnaik (@Naveen_Odisha) May 2, 2019
As 'Fani' inches towards the point of landfall, 'yellow alert' has been issued for Odisha by the Indian Navy. People have been asked by the Odisha government not to be panic.
According to another report by the Bhubaneswar-based Centre for Environment & Climate (CEC) of SOA University, Cyclone 'Fani' may hit earlier than anticipated. Previously it was expected to make a landfall around afternoon. But according to CEC director SC Sahu, the cyclone may cross the Puri coast in the morning hours of Friday.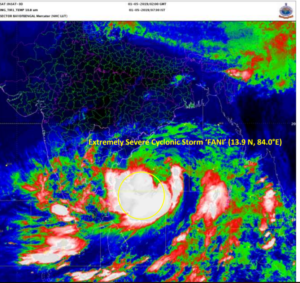 Incessant rains were experienced since Thursday morning in many of the coastal districts.