Bhaskar Parichha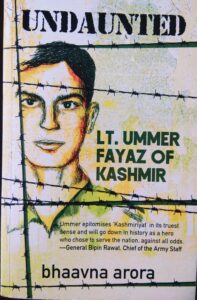 Two years ago around this time twenty-three years old Lt. Ummer Fayaz was brutally murdered by armed militants in Shopian in Kashmir while he was homewards, to attend a wedding in the family. The death sent the whole nation into shock. The anger was so out -pouring that Delhi's India Gate was crammed with slogans heavily loaded with nationalism and patriotic sentiments the following day. With banners paying homage to Fayaz, people angrily mourned the sheer barbarity of the act. From ex-servicemen cutting across ranks to serving officers to the commoners all marched towards Amar Jawan Jyoti to pay their heartfelt tributes.
Ummer Fayaz's martyrdom is an exceptional story of sacrifice and, justifiably, has become the subject matter of a book.Ummer was one among the countless martyrs who laid down their lives for the motherland. But he was different. In his short and moving life, he joined the army to set an example and motivate fellow Kashmiris to give up violence and join the armed forces.
Bhaavna Arora's 'Undaunted' is an amazing book. The first ever book on Lt. Ummer , 'Undaunted' was the result  two years of painstaking research, together with six months of travel to the Kashmir Valley, the IMA, the NDA, MHOW, Devlali and Akhnoor to gather material. And it was worth it.
The strength of Bhaavna's writing is in her robust investigation that flows freely throughout the book. A gifted author having to her credit three best sellers, Bhaavna is a master storyteller, capturing the emotion as well as the subtleties of what she wants to communicate. It is a book that can inspire millions in the valley.
Lt. Ummer Fayaz was one among the many from the Kashmir valley who was full of life, courage and epitome of nationalism. He joined the army against all odds. If ,for ever and a day, the Indian armed forces stood as an epitome of courage, selflessness and  patriotism,Ummer epitomized that courage and 'Kashmiryat' in its truest sense.
A sensible narrative and one that is undemanding, 'Undaunted' tells the story of Ummer: his birth, his schooling, his temperament, and about his brutal death. What's more, the book is a window on Kashmir and its innate culture. With flash backs and fast forwards, the book is a roller- coaster read and it will keep you engaged till you draw to a close.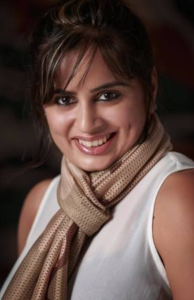 Bhaavna being a grand-daughter of an army man in the sixties, there is a lot that she wants to tell the readers not only about Lt Ummer and Kashmir but 'each of the martyrs – whether a soldier dies in a terrorist encounter in the valley or gets buried n snow at the Siachen glacier or is shot down by enemy bullets or blown apart by land mines at the border. Because she believes 'all have one thing in common, and that is an unparalleled love for their country.'
This is a conceptually innovative and highly-informed account of a martyr of the Rajputna Rifles and takes the reader on an analytically sharp tour of the family of Fayaz. Part analysis and part story-telling, this book   has all the intricate details of a young man so viciously slain to death.
With a Foreword by General Bipin Rawat,COAS and an epilogue ,'Undaunted' is  a must-read for all Indians who care about Kashmir, its future and for those Kashmiris who refuse to be cowed down by terror. Without stating the understandable, the book is a cry for Kashmir, an entreaty for young Kashmiris and takes a deeper look at who their heroes should be.
One is predominantly struck by the lengths to which Bhaavna has gone to render an authentic account of Kashmir, the life over there and the existence of army personnel posted in this dangerous terrain. As Bhaavna says at end of the book, 'the perfect ending remains elusive. The day no author has to dip his or her pen in the blood that flows unabated in the Valley to write its stories, that would be the day that is worthy of a perfect ending.'
 Undaunted
By Bhaavna Arora
Westland Publications
61, Silverline Building
Alapakkam Main Road, Maduravoyal
Chennai 6000095
Rs 299