OdishaPlus Desk
Natural storm just after the political storm in Odisha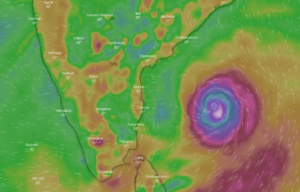 Hardly has the voting ink dried from their fingers, people of Odisha are threatened by a severe storm. What is worrying is that the cyclone is happening in peak summer. Never in recent memory had the state witnessed a cyclone, much less a severe one.There is a massive preparation going on by the state government to face the situation.
Google has mean time put a cyclone warning: "Southwest Bay & adjoining Southeast of Bengal and cross Odisha Coast between Gopalpur and Chandbali, to the south of Puri around 3rd May afternoon with maximum sustained wind of speed 175-185 kmph gusting to 205 kmph."
Chief Minister Naveen Parnaik has reviewed preparedness as cyclone Fani changed its course to pass through coast of Odisha.
Reviewed @SRC_Odisha's preparedness as cyclone #Fani has turned course to pass through coast of #Odisha. Also discussed with senior officials on the preparedness of the field officials. Administration is fully geared up to handle the situation.

— Naveen Patnaik (@Naveen_Odisha) April 30, 2019
Sources from the IMD said that as many as 14 districts-Gajapati, Ganjam, Puri, Khurda, Puri, Nayagarh, Cuttack, Jagatsinghpur, Bhadrak, Balasore, Jajpur, Mayurbhanj, Dhenkanal, Angul, Keonjhar are likely to be under the impact of the cyclonic storm.
The National Disaster Management Authority too has alerted all NDRF teams at Mundali to remain on standby mode.
Anticipating possible landfall in Bhadrak/Balasore region of #Odisha NDRF team prepositioned at Balasore and further strengthened with manpower and equipment especially tree cutters. Jharkhand RRC alerted to be on hot standby. ALL TEAMS AT MUNDALI ON READY STANDBY. #CycloneFani

— NDMA India (@ndmaindia) April 30, 2019
There is a massive preparation going on by the union government as well the four states – Odisha,Andhra Pradesh,Tamil Nadu and West Bengal –to face the situation.
The Indian Meteorological department has classified the threat from Cyclone Fani as 'very severe'. The Navy is deploying ships, manpower, food; clothes among others to limit the damage from the natural disaster. It could even be in the scale of 1999 Super cyclone which   killed over 9,800 people in Odisha.
The National Disaster Response Force and the Indian Coast Guard has been put on high alert. Ministry of Home Affairs has ordered to release advance financial assistance, in advance, of ₹108 crores to four states that stand threatened by the natural disaster. Andhra Pradesh  has been sanctioned 200 crores while Odisha has been given 340 crores.Tamil Nadu has been given 310 crores.Similarly, West Bengal has been sanctioned 230 crores.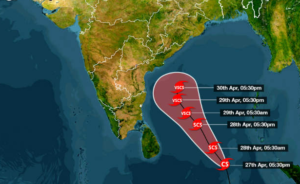 The Eastern Naval Command (ENC) is on high alert to render necessary humanitarian assistance. Indian Naval ships at Visakhapatnam and Chennai are on stand-by to proceed to the most affected areas to undertake Humanitarian Aid Distress Relief (HADR), evacuation, logistic support including providing medical aid. These ships are provisioned with additional divers, doctors, inflatable rubber boats and relief material that include food, tents, clothes, medicines and blankets.
Naval aircraft are also on stand-by at the Naval Air Stations INS Rajali at Arakkonam, Tamil Nadu and INS Dega at Visakhapatnam, Andhra Pradesh, to undertake reconnaissance, rescue, casualty evacuation and air drop of relief material to the stranded.
The ENC is closely monitoring the developments in the Bay of Bengal and Flag Officer Tamil Nadu and Puducherry Naval Area (FOTNA) and Naval Officers-in-Charge (Andhra Pradesh) and (Odisha) are in constant communication with respective state administrations.