Manas Ranjan Mahapatra
It was in 1976, mid of the Emergency in India that a young adult of 16 reached the first literature festival of India Prajatantra Bishuba Milan, and recited an untitled poem, those days called Anam Kabita and declared proudly himself as Anam. All were amazed. Madhu Mohanty, the philosopher of the Anam Movement was present. On both sides of him were two stalwarts of Anam Poetry Kumar Mohanty and Harihar Mishra. They all called that young adult and accepted him into their fold.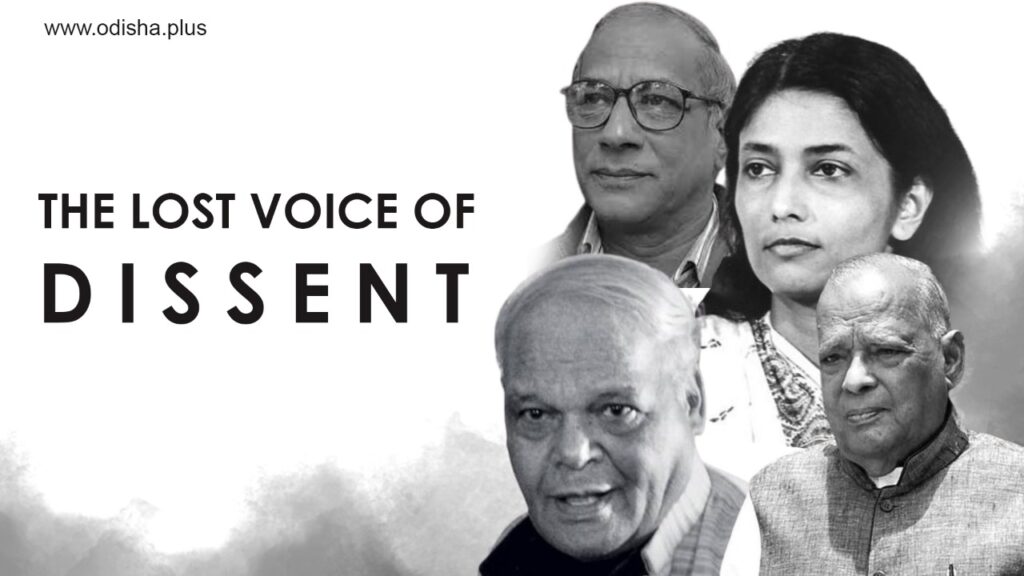 He was none other than me. Let me write about that movement.
The Anam Movement began in 1969. Its architect was Poet Kumar Mohanty along with Poet Harihar Mishra. Madhu Mohanty was the Socrates of this movement and several other voices of dissent and these two led Anam Movement. Kumar Mohanty ( 13 July 1942 – 19 December 1995 ) was the ideologue for young poets like me in the early years of our growth as budding poets half a century ago.
I am fortunate to have worked with these friends, Kumar Mohanty and Harihar Mishra. The other poet who popularised the legendary movement was Rajendra Kishore Panda. The creator of the symbol of dissent 'Anam Das', in his poetry, Anam poet Rajendra Kishore Panda, the voice of dissent, got the prestigious Kuvempu Samman from Karnataka. I have been associated with this great poet for the last almost five decades since our days in the Anam Movement way back in 1976-77.
Doing a Literature Festival or a Book Fair has now become a business or political circus. Voice of dissent has become a matter of theory rather than practice these days. But, there was a time when people like Kumar Mohanty and Rajendra Kishore Panda were writing in Odia against the government and Chief Ministers like Nandini Satpathy or Janaki Ballav Pattnayak were listening to them with patience and honor. Vishnu Khare and Mangalesh Dabral were similar poets of dissent in Hindi and PM Indira Gandhi was happy to listen to their poetry reading.
Vishnu Khare is no more. I was never in his close circle. I have many reasons not to remember as I was not as intimate as some of my friends and/or colleagues in NBT, and I was a close friend like many. He never called me anywhere in the city. But he was a genuine poet and his passing away is painful for me.
Vishnu Khare and I were known for almost two decades. We met around Mandi House, be it Ravindra Bhawan, Shri Ram Centre, Kamani, or LTG several times Sri Ram Centre, Kamani, or LTG. Suddenly I found Vishnu Khare in the National Book Trust as a Consultant. Manglish Dabral, my long-time friend and renowned Hindi poet was there too in NBT as a Consultant for almost 3 years.
I have a bad tendency of trying to write or speak languages in which I don't have mastery. Delhi was declared the Book Capital of India and we planned a series of literary or book-related events throughout the country. I sent a note in Hindi mentioning my plan to our Director. As I remember, we had Nuzhat Hassan, a police officer as Director and she sent my note to Vishnu Khare for comment. Vishnu Khare, instead of commenting, circled some words with red ink and sent them back to me. I could not understand and went to him. Mangalesh Dabral was also present there.
'When you write a language, write it correctly,' Vishnu Khare said.
'I tried my best. I can't write better. It is a note, not an answer sheet,' I replied.
Mangalesh Dabral intervened, 'Vishnuji, Manas is from Odisha, his mother tongue is Odia. We should be happy that he speaks Hindi well. Maybe, his written Hindi is not that good. By the way, can you or I speak or write a few words in Odia ?'
'How can I understand that this note is from a non-Hindi speaking person? I thought it was from a Hindi editor.' He replied. Then he spoke about his experience with some Hindi editors.
We met last time at Bhubaneswar in the Odisha Art and Literature Festival at Bhubaneswar in February 2018.'Come, I have now mastered some Odia words,' he said. Then he uttered in grief,' But I can't speak those fluently as you speak Hindi'.
'It is a matter of practice Bhai, I replied.
Vishnu Bhai and I stayed at the Festival for 3 days. He attended all the sessions. On the last day, on his demand, I acted as Bartender.
'We will meet next time in Delhi', he said. I assured him that I will do it.'But I hope you will not ask me to appear in any Hindi test…' I said in the tone of a joke.
(The Author Manas Ranjan Mahapatra is a former editor of National Book Trust, New Delhi. Views are personal)
Tags: #AnamPoetry #OdishaArt #LiteratureFestival #JanakiBallavPattnayak #NandiniSatpathy #Poeticvoice #VoiceofDissent