OdishaPlus Bureau
A day-long eastern region consultation on the National Curriculum Framework organised at SOA on Saturday. Eminent educationists, civil society representatives from the state took part in the workshop.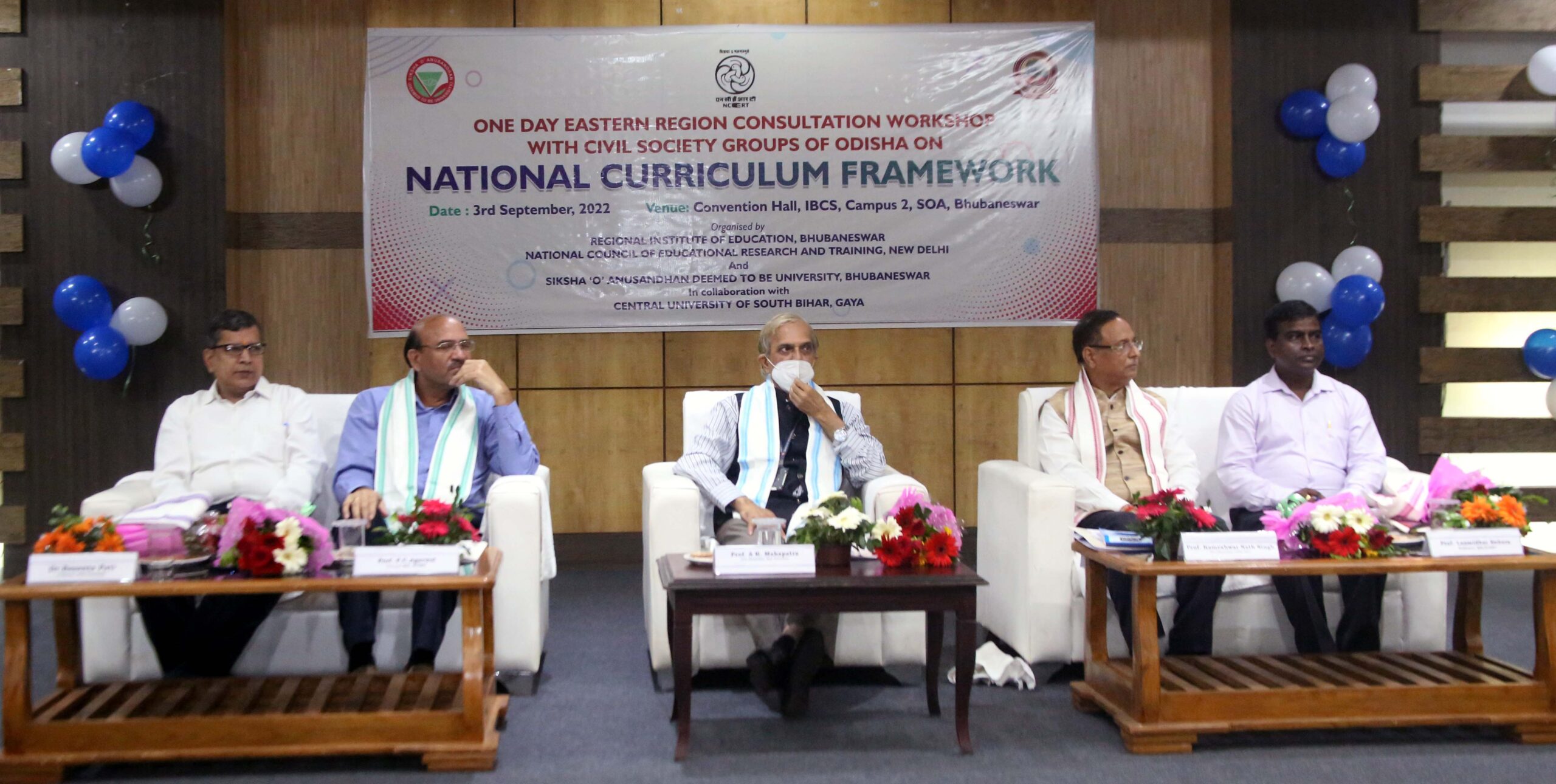 The main objective of the program was to integrate the basic and grass root knowledge and experiences of the civil society in the national curriculum framework.
The consultation was organised by the Regional Institute of Education (RIE), Bhubaneswar, NCERT, New Delhi and SOA in collaboration with the Central University of South Bihar, Gaya.
The NCERT has been pursuing a bottom-up approach for preparation of the national curriculum framework so that inputs provided by all stakeholders could be included in the document to facilitate a national consensus.
The inaugural session was addressed by Prof. P.C. Agarwal, Principal, RIE, Bhubaneswar, while Prof. Kameshwar Nath Singh, Vice-Chancellor of CUSB explained the objectives of the workshop.
SOA's Vice-Chancellor Prof. (Dr.) Ashok Kumar Mahapatra also addressed the workshop. Others who spoke were SOA professor Dr. Basanta Kumar Pati and NCERT professor and coordinator of the program Dr. Laxmidhar Behera.
The participants in the panel discussions included Prof. Sudhakar Panda, Director, Bhubaneswar NISER, Prof. SK Palita, Vice-Chancellor, Central University of Odisha, Koraput, Prof. PK Mohanty, Vice-Chancellor, Khallikote University, Prof. Byomakesh Tripathy, Vice-Chancellor, Utkal University of Culture, Prof. Gitanjali Das, Vice-Chancellor, Berhampur University, Prof. Jashobanta Jena, Director, Institute of Mathematics and Application and Dr. Somen Ghosh, Director, Regional Science Centre.
Representatives of NGOs and civil society groups like Language and Learning Foundation, New Delhi, Save the Children, Odisha, Shikhya Sandhan, Bhubaneswar, CYSD, Bhubaneswar, Aide et Action, South Asia, Action Aid India, New Delhi, Learning Links Foundation, New Delhi, Shikhya Vikash Samiti, Odisha and Tata Trust joined the deliberations.
Tags: #CYSD #LearningLinksFoundation #NationalCurriculumFramework #SOA #ChildrenLearning