OdishaPlus Bureau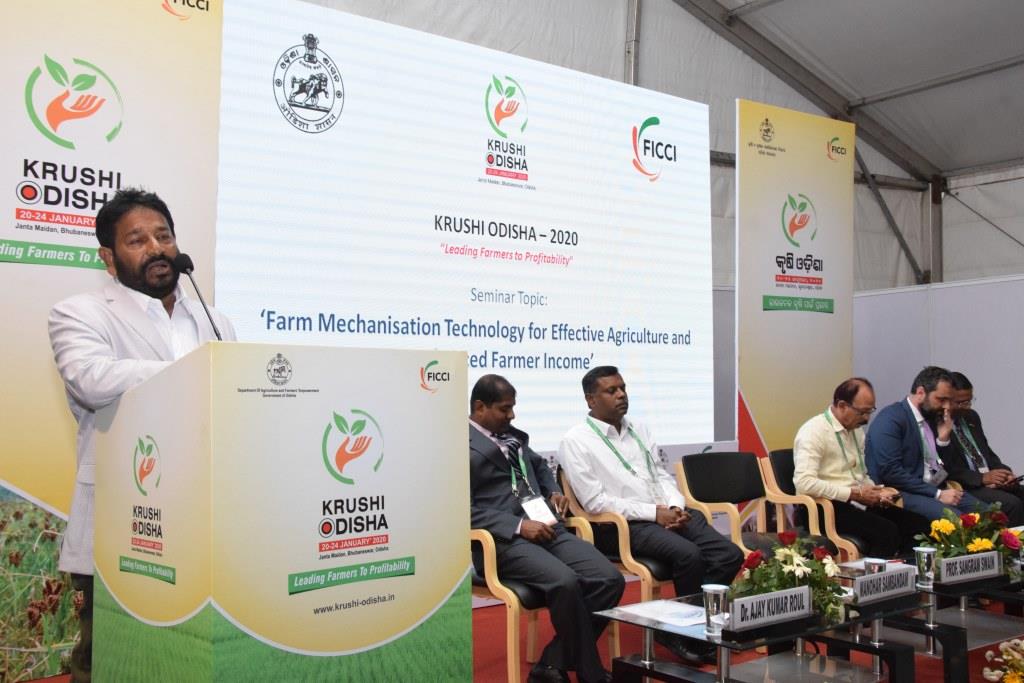 Only by having a new tractor, one cannot think of enhancing productivity in agriculture. "For a boost in the agriculture productivity, a farmer has to keep a lot of things in mind like the land should be prepared well for cultivation, seed quality should be high grade, land should be prepared well, good quality tools should be used and the harvest should be done at an optimum time", opined Er. Manoj Kumar Dash, Chief Engineer (Agril.) Department of Agriculture and Food Production, Govt. of Odisha. Er. Manoj Kumar Dash was the Chief Guest for the seminar on 'Farm Mechanization Technology for Effective Agriculture and Enhanced Farmer Income' on the third day of Krushi Odisha.
The panelists at the seminar included Er. Manoj Kumar Dash, Chief Engineer (Agril.) Department of Agriculture and Food Production, Govt. of Odisha, Dr. Ajay Kumar Roul, Scientist, Agricultural Mechanization Division, ICAR-CIAE , Mr. Mukul Varshney, Director, Corporate Affairs, John Deere India Private Limited, Mr. Davide Gallarate, India Representative, FEDERUNACOMA, Italian Agriculture Machinery Manufacturer Federation, Italy, Prof. Sangram Keshari Swain, Dept. of Farm Machinery and Power, CAET, OUAT, (moderator), Mr. Manohar Sambandam, Founder, Green Robot Machinery.
Er. Dash informed the farmers present at the seminar that the Govt. of Odisha has made subsidy available to 121 companies and 934 types of tools for the benefit of farmers. "Other states in the country have followed suit and are implementing DBT model of Odisha. The government is bringing subsidy down for already popular tools while increasing the benefit for newer farm tools and equipment and technology to bring fresh technical knowhow to the state. The government is fully dedicated to the cause of farmers and Agriculture. The farmers can always approach the development engineer and the executive engineer in the block if they have any doubts regarding use of any machines or implements", said Er. Dash.
He assured the farmers of full support from the government in dispute settlement and queries about farm mechanization and technology companies. In the same tone, he cautioned the farmers that they should bring the issue of after sales service and disputes to the notice of the government via email so that the state government can take up their cause and help the farmers in need.
Mr. Mukul Varshney praised the state government for the Direct Benefit Transfer (DBT) scheme of subsidy to farmers. He said that Odisha is progressing in the field of agriculture. He advocated the use of technology advancements like power steering and power brakes in tractors to ease the work of the farmers. He stressed upon lessening input costs in order to boost profitability of the farmers. He informed that his company John Deere has come up with a one of a kind finance company where the agreement is done in the local language. Mr. Varshney rued the lack of women in the agriculture sector and said that we need to rethink our way of looking at women, have to empower them and give them training in farm mechanization.
Dr. Ajay Kumar Roul, said that mechanization is the way forward for enhancing productivity. It is directly proportional to the amount of yield a farmer can get and reduce wastage. He said that India is the world's largest manufacturer of tractors.
Mr. Davide Gallarate informed that Federunacoma, the organization that he represents has a turnover of 2000 billion USD. "We have developed a system of enterprises for the development of mechanization. We have different machines that are helpful in various purposed from sowing to harvesting. The yield per hectare in Odisha for Potato n Tomato is half the global average, which can be addressed by using mechanization and technology. SAMRUDHI the state Agriculture policy is a right way forward for progressive agriculture in Odisha incorporating latest technology and mechanization," said Mr. David.
Prof. Sangram Keshari Swain while moderating the session said that Indian Centre of Agriculture Research (ICAR) is running three projects at OUAT on farm mechanization and tools. "We run training programs in villages. We do field tests of the same prototypes and take inputs from farmers to improve the machines. We also research on all modern equipment and implements for farmers and on easing farming."
Mr. Manohar Sambandam agreed that implementing robotics is helpful in agriculture. "We work with paddy and cotton. One third of cotton producing land is in India but our yield is half the world's average. The cotton industry in India employs 16 million people in the country. Cotton is a useful crop for farmers because it takes a total of 1000 litres of water and plenty sunlight, so there is a huge opportunity to grow better cotton in Odisha."
"My recommendation is that Odisha should move to cotton in summers as it takes low water and more sunlight. We export cotton from Karnataka to Bangladesh, since you are close to Bangladesh, the govt. should use branding of cotton and farmers should invest in cotton to earn profitability." Mr. Manohar informed further. He also displayed a short video of a robotic vacuum type cotton picker that has better cotton picking rate than manual labour, developed by his company Green Robot Machinery.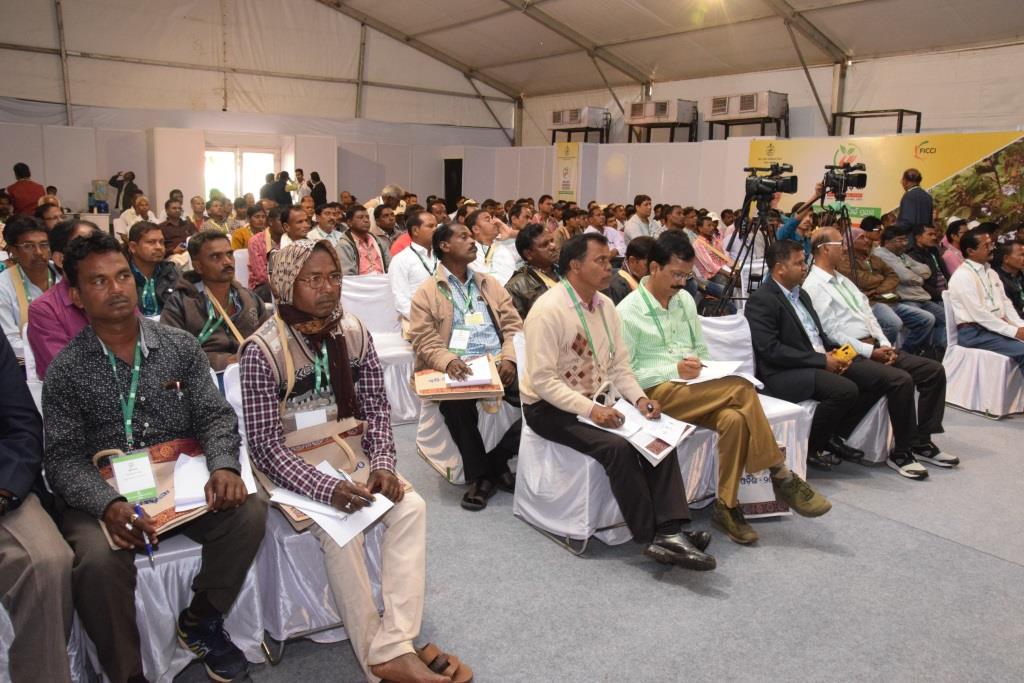 It was discussed in the seminar that the DBT scheme of the Odisha government is helpful to the farmers and it was informed that the state government has an agreement with almost all farm machinery supply companies to provide adequate after sales support to farmers if they intend to keep doing business in the state.
'Krushi Odisha', the annual flagship five day exhibition cum agri fest, organized by Dept. of Agriculture and Farmers' Empowerment, Govt. of Odisha in collaboration with FICCI is being held from 20-24 January 2020 at Janata Maidan, Bhubaneswar. The mega programme which envisages leading farmers to profitability, involves various aspects like farm income, implements, modern technology in farming, financial assistance to farmers and capacity building.