Agnivahini was conceived from the idea that fire prevention and combat is not a men's world, and women have a significant role to play in ensuring fire safety of their homes and the society.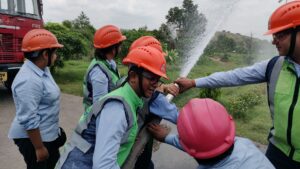 OdishaPlus Bureau
In the western part of Odisha, there a squad of female fire-fighters have been trained to identify potential fire hazards, respond to fire calls, take appropriate and effective action in case of fire, and improve fire safety conditions in the region. Called 'Agnivahini', this team of brave women are employees of Vedanta Limited Jharsuguda who have been meticulously trained by the company's Fire Safety team.
Agnivahini was conceived from the idea that fire prevention and combat is not a men's world, and women have a significant role to play in ensuring fire safety of their homes and the society.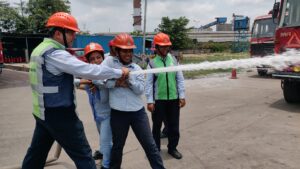 "We feel an immense sense of responsibility in pioneering the concept of an all-women fire fighting team. Every new person who is knowledgeable and trained in fire safety is an asset of national importance and we are proud to pitch in our efforts towards the same," says Mr. Abhijit Pati, the CEO of conglomerate Vedanta Ltd. Jharsuguda operations.
Like many parts of the world, in India, home/residential fires have been known to constitute a major chunk of reported fires, and a majority of them arise from carelessness or ignorance amongst the residents. Fire ranks fifth in the risk ranking of India Risk Survey 2017 report published by Pinkerton & FICCI. Basis the latest report of National Crime Records Bureau (NCRB), a total of 18,450 cases of fire were reported in India in 2015, of which the cause-wise analysis of fire accidents concluded that nearly 42% of deaths were due to fire accidents in residential buildings. The high numbers of casualties and material damage caused by fires is largely due to poor fire services and lax safety standards. Lack of funds, manpower, stringent governance, equipment, vehicle and infrastructure contribute to the improper state of Indian fire services. It calls for the need forcommunities to know how toprevent incidences of fire and in case of breakouts, try and save lives.
Agnivahini aims to increase the level of understanding of various causes and types of fire among the women, and prepare them to act effectively and efficiently in emergency situations. So far, 46 women from 2 batches of Agnivahini have already graduated from the program and currently, the third batch is undergoing training. Started in 2018, every year, two Agnivahini Training Programs (April-September and October-March)are conducted by the Fire Safety team of Vedanta Ltd., Jharsuguda.The call for nominations to the program are answered by brave and spirited women from across the operation, who then undergo rigorous and exacting trainings over a period of 3 months following which they have to qualify uncompromising assessments before they are certified as members of Agnivahini.
The candidates are taken through theoretical and practical training modules comprising basic fire prevention and combat techniques, emergency preparedness and onsite emergency drills, and Fixed Fire Systems and SCBA. Post that, they are given an assignment, where their trainings are put to use. Following that, they appear for a three-tier assessment comprising written examination, viva voce and practical assignment.
"Agnivahini is our dream project, and it stands testimony to the fact that women are integral to building a fire-safe culture. Given the rising incidence of fires all over the world, it is of great importance that every woman, man and child is aware of the potential hazards and is at east adequately trained to prevent and combat fires. We are proud to stand with the Agnivahini and work with themto train and enable people within and beyond our operations to keep themselves, each other and the society fire safe," says Gagandeep Ojha, the Head ofFire Safety at Vedanta Ltd., Jharsuguda.
"Being a member of Agnivahini has given me the pride, the platform, the team and the strength to channelize my inner fighter to serve for the health and safety of those around me. We serve to save," proudly claims Arti Sehgal, an Agnivahini squad member.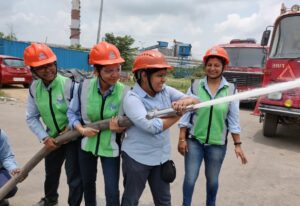 Initially, Agnivahini was intended to support the Fire Safety team in identifying potential fire hazards, conducting fire prevention audits, fighting fires effectively if breakouts happen, and generally aid in improving the fire preparedness and safety quotient of Vedanta Ltd., Jharsuguda. Within a year, Agnivahini set its eyes on a bigger picture – to work with the Jharsuguda community and make the district fire safe. The Agnivahini squad will target schools, villages and the town to impart fire safety (prevention and basic firefighting) training sessions to children and adults alike.
Working in close coordination with the company's Employee Volunteerism Program (EVP) team and CSR team, Agnivahini will conduct a series of camps throughout the district of Jharsuguda, specifically focussing on improving the awareness level and disciplined emergency preparedness amongst women and children.The road ahead is challenging and difficult, but Agnivahini's fearless women march ahead!