Bhaskar Parichha
This is a wonderful book coming as it is from a veteran journalist who has been witness to the many cross-currents of Indian politics in the past four decades. Kumkum Chadha's columns in Hindustan Times   have always been well-liked and she wrote the chronicles with splendor .Nice that those insights and behind -the -scene goings-on have found place in a book.
'The Marigold Story: Indira Gandhi & Others' is a combination of reportage and analysis. She has rallied round   ground zero reports, personal relations and formal interviews to pen this book.  What makes this chronicle interesting is that it untangles the previously unknown aspects of different personalities. The dozen men and women who have been featured in the book have been an important part of India's political, culturl, cinematic and commercial history. Chadha has made a conscious selection of celebrities for this 350-page book and she has done it well.
Larger-than-life  and with fascinating chunks of information, this book  profiles of Abhinav Bindra,Indira Gandhi,Ajay Bijli,L.K. Advani, Smita Patil,Sanjay Gandhi, Ekta Kapoor & Smriti Irani, Lalu Prasad Yadav, Rajiv Gandhi, Amitabh Bachchan and Arun Jaitley.
The blurb says all about the book : 'Prime Minister Indira Gandhi hated the marigold flower, although in death it was strewn all over her body; her son Sanjay Gandhi was dictatorial, but also uncommonly empathetic; Smita Patil, who was synonymous with strong, women-centric films, was deeply insecure in her personal life; Ekta Kapoor, the television czarina believes that her unabashed faith in God helped her scale heights and earn her first big bucks; and Abhinav Bindra, who won India the first Olympic gold medal in an individual event confessed how he was a laidback child with no goals in sight.'
Three things stand out clearly in this elegant and information-packed book: overwhelming interest to write about contrasting personalities while chronicling their lives in great detail; the poise and the candor. Not a newsmaker kind of book, 'The Marigold Days…'  captures the weaknesses and failings of the icons, moves farther than their accomplishments and examines what makes these individuals exceptional.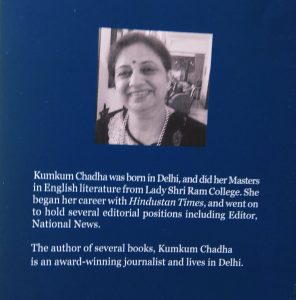 In  Smita Patil's story,Chadha  narrates it in excruciating details   how the 'Arth' actress   was prematurely born to an overworked and malnourished mother, her deprived childhood, how she looked after her husband well  and her oft-quoted line 'I hate good-byes'.
On Indira Gandhi, Chadha's observation is pertinent: 'A recurring factor in Indira Gandhi's style of functioning was the near-feudal set -up that she presided over. In her scheme of things, loyalty took precedence over performance. She never forgot, and seldom forgave those who defied her.'
Elsewhere she says, when Indira was out of power she turned to the gods, 'despite her being brought up by a father who was rational than religious.' The crème la crème of this hardback is the chapter on Indira Gandhi.Chadha has devoted some ninety pages to the former PM and there are many interesting facts about the iron lady of Indian politics.
The chapter on LK Advani is equally engaging.BJP's 'solitary reaper', says Chadha in her book, didn't celebrate Holi in 2014 unlike previous occasions.Reason? Narendra Modi was made PM candidate. Parenthetically, the saga of Advani-Modi showdown persists even till this day.
According to Chadha,Rajiv Gandhi who was the 'reluctant' PM had a problem with garlands and he detested them.Because Rajiv had a sensitive skin, he wouldn't tolerate the heavy garlands and the strand  because he feared that would harm  his skin. This one nugget about Rajiv is hilarious:Rajiv was said to have once  instructed Kripashankar Singh- a prominent leader of Maharashtra – not to return the garlands to the crowd because they kept on rotating the same swag several times over : 'ek mala  late hain aur bar bar pehnate hain.'
In 1990, Chadha had travelled with Rajiv from Delhi to Rajasthan when the former prime minister was out of power. Rajiv was traveling in third class, non air-conditioned compartment that had wooden seats. Rajiv was most comfortable, milling around with ordinary folks when the temperature was over 40 degree Celsius and personal security was lax. Throughout the journey, Rajiv kept savoring samosas, butta (corn-on-the-cob) and sipping sugary tea. Each time a station came, Rajiv would ask close associate H K L Bhagat to look for some food, "dekh, khane ko kya mil raha hai." Bhagat, perhaps instructed by Sonia Gandhi, would trudge up and down the station to return empty handed, "aapke layaq nahin hai, Rajiv jee" (Nothing up to your standard sir).
Chadha has focused on political and crime reporting as well as gender issues. These exposures propelled her to write her first book 'The Crucifixion: Interviews' where leaders nail themselves. Her second book 'The Indian Jail: A contemporary Document' was on   the horrible conditions prevailing in jails. The subsequent book 'The Ten Year File' was a collection of some of her writings between1982 to1992.But it is in the present book that one gets to read a more exhaustive and meticulous account of the dramatis personae coming as they are from a  diverse milieu.
Written in an immaculate style, the gripping stories make the book a persuasive read.
'The Marigold Story: Indira Gandhi & Others'
 Kumkum Chadha
Tranquebar/Westland
61,2nd floor,Silverline Building
Alapakkam Main Road,Maduravoyal
Chennai- 600095
Rs 699
2019